Sharper Image for Sale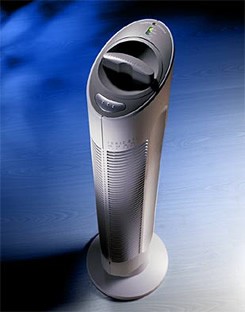 Anybody want to buy a used ionic breeze?
Sharper Image Corp., the company that brought us such incredibly useless products as the Ionic Breeze air purifier, put itself "up for sale" today - just two months after filing for Chapter 11 bankruptcy protection.

Apparently the struggling economy has really send people running away from the upper-end retail store, which sells most of its products at strict retail and largely inventories only the highest-priced items for each category.

"Given the present retail climate and specialty nature of the company, as well as the limited financing available to the company, a sale of its business and assets at this time will preserve values and yield the best recovery to the company," said Robert Conway, Sharper Image's chief executive.

The company said it wants to complete the sale by the end of May and will prepare for an auction of its business as soon as possible.

Sharper Image struggled through three years of losses and litigation involving its Ionic Breeze air purifiers.

Joe Schmoe posts on April 25, 2008 08:56
Their catalogs were fun to look at. Never saw anything that I would actually buy, though.
smurphy522 posts on April 25, 2008 08:52
Whole house filtration the way to go

Most experts agree that only whole house filtration works porperly. If getting a new house or HVAC unit (heater/A/C unit) make sure to look into the option of a HEPA Cert. filter unit. I can say without a doubt it has helped my allergies and my sons.
furrycute posts on April 24, 2008 18:45
Sorry to hear about your wife's allergies. Those asthmatic attacks can be very scary.

A couple of years ago Costco used to sell a couple of HEPA air filters. I think they may still carry it. I think the least expensive model was made by Honeywell. May give that a try sometimes. But the thing with traditional air filters is the fan noise. Oh well, can't have everything.


And thanks guys for the info on the ionic breeze and the Orek.
mudrummer99 posts on April 24, 2008 18:37
Midcow2, post: 404925
The Orek air purifier. The The Oreck XL® Tower Professional Air Purifier is a little pricey at $600 average retail is around $370

https://www.oreck.com/air-purifiers/xl_air_purifier_tower_pro.cfm

Here are some reviews :

https://www.infomercialratings.com/product/oreck_air_purifier_review
I'll give you a first hand review of this product. I had a horrific experience with it. My wife has a few allergies, well actually she is allergic to damn near everything, so we were happy when we received this as a christmas gift one year from my aunt. It worked great, for a while. I cared for it exactly as the instruction manual prescribes, cleaning the collection grid and cleaning/replacing filters as often as necessary. I figured that it was doing a good job, until about a week or so before our wedding. My wife wakes up one night in a severe asthma attack and has hives all over her body. She goes to the E-room and they whisk her right in, give her the necessary medicines and send her home. The next night, the same thing happens, no need for paper work this time, they take her straight to the back. On the third night in a row, they were quite concerned and gave her a steroid based anti-hystamine, females reading this may sympathize since steroids + wedding dress don't usually mix (yay water retention). On the fourth day, my wife reaches to move this unit and her hand instantly breaks out in hives, hmm, wonder how that happened. Well it turns out that short of dunking the whole unit in water, which you can't do if you want it to continue to do it's thing, there is no way to clean a lot of the little nooks and crannies inside the unit, more specifically below the fan area. Turns out some sort of black mold had been collected into the unit and then found it's way into one of the crannies and spread. Apparently no amount of cleaning short of a Q-tip with rubbing alcohol could have prevented this. So this unit goes into the trash, and low and behold the allergic reactions stop, wtg oreck. I will never own another air purifier short of a hepa-filter type unit, a little more expensive and a hassle with the filters, but worth every penny in my opinion. Hope this helps.
Mike
Midcow2 posts on April 24, 2008 11:40
Post Reply