Sharp Ships PN-455 Pro 1920x1080 LCD Monitor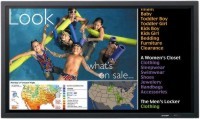 MAHWAH, NJ - Aug. 16, 2005 - Sharp is shipping the company's largest professional LCD monitor, the crystal-clear 45-inch model PN-455. The "future proof" 45-inch monitor has a full 1920 x 1080 HD resolution with more than six million pixel elements for exceptionally accurate and precise image reproduction. With a streamlined black bezel, rugged rear metal enclosure and dual cooling fans for extended use applications, the PN-455 will fit flawlessly into any digital signage or information display setting.
"Sharp's expertise in liquid crystal display technology enables us to deliver the right monitor solution for any application," said Bruce Pollack, associate director of marketing, Sharp LCD Products Division. "Our new 45-inch professional monitor displays exceptional HD content, in full 1920 x 1080 resolution, and upconverts today's standard definition content to the finer picture quality."
Sharp Electronics is the U.S. sales and marketing subsidiary of Sharp Corporation, the world leader in liquid crystal display (LCD) technology and has LCD monitors and televisions that range in size from 13- to 45-inches.
Sharp's LCD monitor line has several proprietary technologies and features that ensure unparalleled image quality for a professional presentation of information, data and images. The line has anti-glare and low-reflection properties enabling Sharp monitors to be placed in brighter areas where other screens might appear washed out. Higher contrast lets viewers discern details they might otherwise miss, particularly when viewing darker content. The 170-degree viewing angles help the monitors display a crisp picture that can be seen from virtually anywhere in the room. A Black TFT/Bright Pixel Elimination feature ensures that if a failed pixel occurs, it is effectively invisible to the viewer. Sharp LCD monitors virtually eliminate the risk of "ghost" or burn-in images that can occasionally appear on plasma and CRT monitors. The monitors can also display any content with ease, from DVD to varying PC resolutions thanks to their full complement of input and output connectors.
Developed for companies looking to install or update digital signage or information display applications, the Sharp PN-455 LCD monitor is designed for high-resolution digital signage, TV broadcast and production, graphics, corporate / education, government (including homeland security), medical/healthcare, staging and rental and transportation center / FID applications.
The PN-455 is available at a suggested list price of $9,595 through Sharp authorized dealers, and is backed by a one-year on-site parts and labor limited warranty. For federal government customers, this model is available for purchase via Sharp GSA contract number GS-03-F4077B. Please see product fact sheet for technical specifications.
Sharp offers a full line of mobile, conference/classroom and system integration / large venue projectors, in addition to system solutions and large-format LCD video/data monitors, available for purchase, lease or rental through its national network of authorized dealers and resellers. For more information, please contact Sharp Electronics Corporation, LCD Products Division, Information Systems Group, Sharp Plaza, Mahwah, N.J. 07430, or call 866-4-VISUAL (866-484-7825). For online product information, visit the Sharp LCD Products Division Web site at www.SharpLCD.com or e-mail: [email protected] .
About Sharp Electronics
Sharp Electronics Corporation is the Mahwah, N.J.-based marketing and sales subsidiary of Japan's Sharp Corporation, a worldwide developer of the core technologies that are integral to shaping the next generation of home entertainment products, appliances, networked, multifunctional office solutions, solar energy and mobile communication and information tools. Leading brands include AQUOS(R) Liquid Crystal Televisions, 1-Bit(TM) digital audio products, SharpVision(R) projection products, Carousel(R) microwaves, IMAGER(TM) digital multifunctional systems, and Notevision(R) multimedia projectors. Sharp Electronics Corporation employs approximately 2,000 people throughout the U.S. supporting more than 50 product lines.