Sharp Introduces XV-Z2000 DLP Home Theater Projector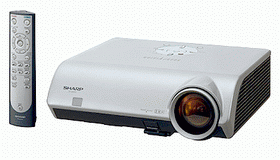 Utilizing the DLP™ HD2+ chip from Texas Instruments and with a resolution of 1280 x 720, the XV-Z2000 boasts a 2500:1 contrast ratio and a brightness rating of 1200 ANSI lumens, delivering one of the best pictures available in consumer home theater today.
Combining this optical technology with a powerful 275W lamp, the XV-Z2000 yields a brightness that is approximately 70% brighter than our previous model, and realizes superb image quality with rich, vivid and life-like color tones. In addition to reproducing natural colors even more vividly, viewers can enjoy impressive 100-inch big-screen pictures even in rooms as small as 3.5 meters square thanks to the 1:1.5 short focal length lens. Moreover, even when the XV-Z2000 is mounted on the ceiling, the motorized zoom lens makes it possible to adjust the screen size and focus using the remote control unit.

The XV-Z2000 is being offered as a Hi-Vision Home Theater Projector combining high image quality with high image resolution, plus a diverse range of installation options and adjustment features.


Features
High Contrast Ratio 2500:1 (in High Contrast Mode)
1200 ANSI Lumens (in High Brightness Mode)
Native 720p High Definition Capability
DLP™ 0.8" HD2+ chip from Texas Instruments
1.5 Powered Zoom and Focus
Powered Optical Iris System (High Contrast Mode/High Brightness Mode)
DVI-I with High-bandwidth Digital Content Protection (HDCP)
MSRP is $4499. For more information, please visit www.sharpusa.com .