Seymour-Screen Excellence Announces Reference Fixed Frames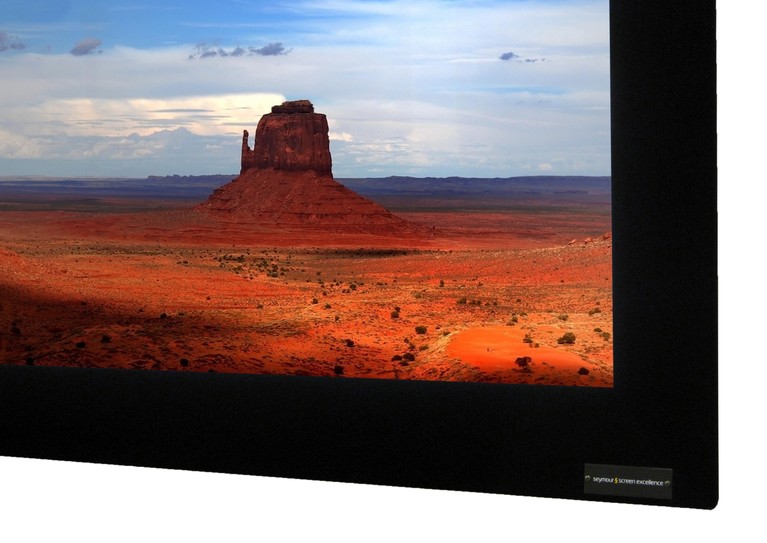 Seymour-Screen Excellence Reference Fixed Frame (RF) Screens
Acoustically transparent projection screen company Seymour-Screen Excellence, today announced the release of its new Reference Fixed Frame (RF) screens for North America. According to Managing Director Chris Seymour, the RF screens are upgraded versions of existing models - a result of his design influences and materials sourced in Iowa, where the venture operates from. New is RF's Infinite Black velvet border material, which Seymour claims absorbs 99.7% of projected light for the sharpest border and over-scan absorption available today. Upgraded is the Enlightor 2 material, presently the highest gain woven acoustically transparent (A.T.) material available on the market and the Enlightor 4K, the industry's only ISF-certified A.T. material designed for super-high 4K resolution Digital Cinema.
With 10 to 100 times more holes per square inch than perforated vinyl screens, the Enlightor screen materials are woven fabrics that make possible placement of the screen over in-wall loudspeakers (as close as desired) without imposing a minimum speaker or sitting distance.  The Enlightor material is also free of the historical limitations of moiré and needing EQ compensation.
"The ability to perfectly match and place at the same height the left, center and right front channel speaker behind the screen, for consistent voicing (as opposed to placing a center channel below the screen), makes possible using a larger image, and a much more immersive experience."
- Chris Seymour, Managing Director Seymour-Screen Excellence
The screens are currently being installed in leading mastering studios around the US. Available in standard 1.78, 2.37 or custom aspect ratios, the screens are available in image widths from 70 to 250-inches.  Featured is a full-perimeter groove tensioning system that locks the screen with a perfectly continuous support.  Pricing starts at $2,500 (MSRP).
About Seymour-Screen Excellence
Founded as a joint venture by US-based Seymour AV and UK-based Screen Excellence, SSE combined the leadership and innovation of their acoustically transparent projection screen materials for high-end custom installers and specialty AV retailers in North America.  Using the latest in materials and design from Patrice Congard, originator of the modern acoustically transparent screen, the company's state-of-the-art screens provide flawless picture quality and acoustic transparency, superior to traditional perforated screens or other less exacting woven screen materials.
BMXTRIX posts on March 03, 2011 16:29
They do help with ambient light issues, but they are extremely expensive and most people get their lights under control in their theater so that they don't need to spend $2,699 on a 100" screen.

That's a LOT of coats of dark paint you can buy for $2,700!

Likewise, the DNP Supernova screens do a phenomenal job with ambient light.

I like the concept and there is a place for those types of screens, but really, I think that people are often building home theaters to recreate the theater experience, and turning lights on is not part of that.

On the other hand, for those with a larger budget, the SI BD screens can do some pretty amazing things.
BukiRob posts on March 03, 2011 13:10
Correct me if i am wrong here, but I seem to notice very little emphasis on the screen selection as a part of the HT.

Ive searched all over various threads and haven't seen ANY mention of Screen Innovations Black Diamond II screens.

Does anyone have one and what is your experience been with it? Ive seen them in demo's and frankly, they seem to deal with a lot of the problems that plague projectors with ambient light issues.
GO-NAD! posts on March 01, 2011 07:18
Well, that debate certainly got heated!

Westcott, don't know if you are still following this thread, but you made an assumption that AT screens lead to in-wall speakers. As JM pointed out, that was a false assumption. What the availability of an AT screen did for me, was give me ammo to convince my wife that a projector was an acceptable option for our HT. Like many wives, she isn't keen on looking at speakers. Putting up a false wall to hide everything was my ace-in-the-hole. Another plus, is being able to hide bass traps and front wall treatments.

That said, I think in-wall speakers can provide a legitimate route to a good sounding system, if well thought out and implemented. I can't add anything that BMXTRIX hasn't already said, so I'll leave it at that.
jostenmeat posts on February 24, 2011 16:17
westcott, post: 794943
Who is the TLS Guy?

And why does his setup change the laws of physics?

You can argue all you want about the performance of in wall speakers but you will be hard pressed to find anyone that understands room acoustics to give it any validity. It is an untuneable system once installed. There is no way to test speaker placement or how it will interact with the room. Without that, it is impossible to get a flat frequency response.

I won't even get into all the different variables of wall construction that could affect the sound produced.

And there is no such thing as a matched system for a room. Yes, speakers can be timbre matched, but that has nothing to do with final room acoustics. Once again, the best speakers in the world are only as good as the position they are placed in within the room. There is NO majic hardware and no "matched" system that majically defies the laws of physics. And, there is no such thing as an infinite baffle outside a laboratory.
Honestly, I don't even know where to begin. One of the concepts of infinite baffle is that the baffle is "acoustically larger" than the frequencies that the speaker can even play. Therefore, even if it wasn't literally "infinite", it might as well be infinite. Labs only? You know there is a website dedicated just to
infinite baffle subwoofers
?
TLS Guy happens to be THE most knowledgeable about loudspeaker design among our contributing members here. I am quite honestly surprised you don't know who he is. Do you ever read loudspeaker design threads here?
REGARDLESS OF THIS DUMB ARGUMENT ABOUT INWALL SPEAKERS, do you still fail to see that most systems with AT screens, by far, are NOT using inwall speakers?!?! They are NOT necessarily mutually inclusive!!!!
WHY ARE YOU BRINGING THIS DUMB OFF TOPIC CONVERSATION THAT IS NOT RELEVANT TO THIS THREAD (EXCEPT ACCORDING TO YOUR OWN FAULTY LOGIC)?
For instance, you could take your own exact setup, and not touch a single thing. You could then build an acoustically transparent false wall in front of your stage, with the AT screen. You don't even have to remove the Carada. You don't even move any speaker by a single inch. Of course, why wouldn't you go with an identical, vertically arrayed speaker on the same plane, well I am trying to make an absurdly simple point right now.
The idea of matching speakers is not to the ROOM, but to EACH OTHER.
I wish you no longer sullied this thread about Screen Excellence products, with your unfounded, uneducated, and incorrect statements.
BMXTRIX posts on February 23, 2011 22:10
westcott, post: 794943
It is an untuneable system once installed. There is no way to test speaker placement or how it will interact with the room. Without that, it is impossible to get a flat frequency response.

Once again, the best speakers in the world are only as good as the position they are placed in within the room.
I think this is false information and I see a lot of it from people who are into audio.
Room acoustics can be tuned and is constantly tuned by the people who care about their environment. While I agree it is always possible to get BETTER audio from speakers in acoustically matched boxes which can move throughout the room, it is flatly untrue that good in-wall speakers sound poor, and can't sound far better than many boxed speakers.
Speaker construction, size, and the ability to pivot the speaker for directionality combined with the room acoustics (not speaker acoustics) along with the construction design, or the potential for an acoustically matched backbox for that inwall speaker are all things which can, and do affect the quality of that speaker.
Once again, since most people are using their TV speakers, even the $40 jobbies from Monoprice are a huge improvement over what people have lived with for years and should be considered a very good thing.
But, products like this:
https://www.sonance.com/products/speakers/detail/476
which include a full MDF surround are designed from the ground up to provide excellent sound which is often barely being matched by the competition.
I think people have a tendency to overstate things like this, and apply scare tactics to how many speakers sound in a well designed space. Not that you are wrong to say that there are better choices, but to suggest that a speaker will be bad simply because it is in-wall is not at all accurate, and with some excellent choices out there which can utilize the wall cavity very well, it would be worth anyone considering in-walls to definitely give them a listen and decide if they want to spend all that extra money on a pretty cabinet.
Still, given the choice, the floor space, and the budget, I will go with floorstanding speakers in most spaces.
Post Reply