Sennheiser MixTape Facebook App Brings Back the 80s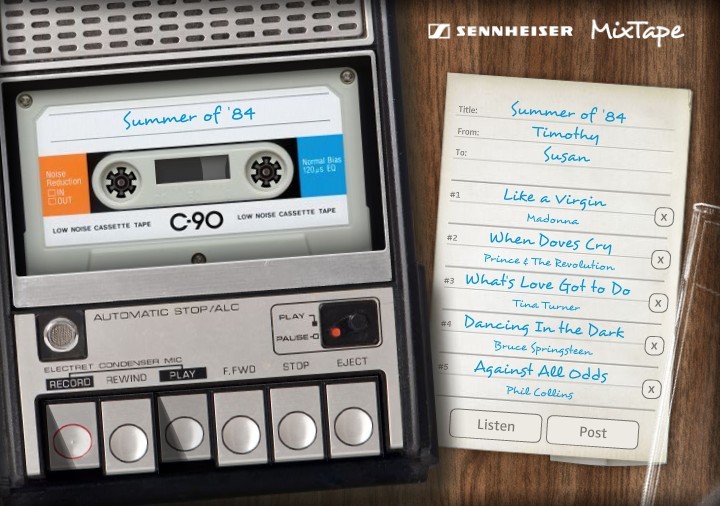 Sennheiser MixTape Facebook App
do you ever miss the traditional mix tape experience - creating compilations of your favorite tunes on cassette like we used to back in the 80s? Well, Sennheiser contends that even in this modern age of MP3s, the musical gift is still something special – with the "Sennheiser MixTape" app. Sennheiser now offers you the chance to "record" on the official Facebook page www.facebook.com/sennheiser, and on all of the audio specialist's regional pages.
Music can hardly be exchanged more personally or creatively than with a mix you have compiled yourself. In the 80s, the cassette recorder was part of the basic equipment in every teenager's room and cassettes could be bought anywhere. Music fans used them to diligently record their very own soundtrack in loving detail. The finished cassette was equally popular for setting the mood at parties and giving as a token of friendship and love.
"For many people, the mix tape is more than just a momento of their youth; it is virtually an art form of its own – you could use it to express certain attitudes towards life and share these with everyone around you. We wanted to transfer this creative handling of music to the digital era – and what platform could be more suitable than Facebook?"
- Marco Brinkmann, marketing communications manager at Sennheiser
With its new Facebook app, Sennheiser pays homage to the classic mix tape, while at the same time bringing it into the digital age. From 9 May, a virtual cassette recorder will be waiting to record five songs for good friends on the Sennheiser Facebook page, www.facebook.com/Sennheiser, as well as on the official regional Sennheiser pages. Once you click the "Like" button on the page, you have complete access to all app functions. Just name the Sennheiser MixTape, enter sender and recipient, and then select your five favorite songs from the extensive catalogue.
Once you have created your own special playlist, you can listen to the Sennheiser MixTape and post it on your own wall or that of friends. A small cassette player, with the tape inserted and labeled, then appears on the wall ready to listen to; each song can be played for 30 seconds. And if the musical greeting sounds really catchy, the complete tracks can be bought at iTunes.
The recipient can, by the way, say thank you straightaway with his or her own Sennheiser MixTape. A corresponding button takes them directly to the Sennheiser app.
Visit the Sennheiser North America Facebook page at http://www.facebook.com/sennheiser.
About Sennheiser
Sennheiser is a world-leading manufacturer of microphones, headphones and wireless transmission systems. Established in 1945 in Wedemark, Germany, Sennheiser is now a global brand represented in 60 countries around the world with U.S. headquarters in Old Lyme, Conn. Sennheiser's pioneering excellence in technology has rewarded the company with numerous awards and accolades including an Emmy, a Grammy, and the Scientific and Engineering Award of the Academy of Motion Picture Arts and Sciences.
audiofox posts on May 23, 2011 13:48
I've still got my TDK head cleaner and degausser cassettes, as well as a box full of old DIY cassettes I haven't listened to this century-do I get to join the club? :-)
scott911 posts on May 23, 2011 10:55
Just the image of the tape recorder with the record & play button's pushed down brought back memories! I can literally remember the feeling of the button's extra resistance, and the satisfying click when you managed to get everything right and the recording started!

time to change my username to old guy!
Post Reply