Screen Innovations Announces New G3 Series Screen Materials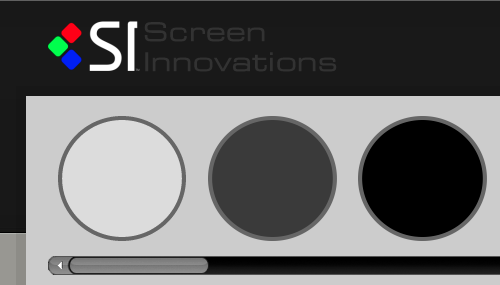 Screen Innovations G3 screens
Screen Innovations (SI), manufacturer of specialized projection screen technology, announced their new Black Diamond G3 screen materials. The new SI Black Diamond G3 enhances projection systems by eliminating the need for a dark, light-controlled, or dedicated environment.  Now viewers can enjoy projection in bright environments anywhere anytime. So what's the big deal with the G3 Series? Well, it makes new inroads into high gain screens and also adds new versions for darker blacks and higher contrast lower gain screens. Black Diamond G3 upgrades include:
All-new 2.7 gain for commercial and 3D applications.  Black Diamond 2.7 is polarization preserving for passive 3D and increases projector brightness by 2.7 times compared to a 1.0 gain screen.  Black Diamond is counter intuitive when it comes to viewing angle.  The new high gain 2.7 Black Diamond has one of the widest viewing cones available making it the perfect solution for wide audience viewing.
All-new .8 and 1.4 gain materials are much darker with improved light rejection, increased contrast, and razor sharp smooth images.
Black Diamond screens have set the standard for screen technologies allowing customers to enjoy the big screen experience in living rooms, game rooms, restaurants, boardrooms, churches, and even outdoors.
"With gains now ranging from .8 – 2.7, our customers will have the ability to sell and install successful projection systems in environments they only dreamed about previously. We are now taking the Black Diamond Screen technology one step further by making the image the best money can buy"
- Ryan Gustafson, president of Screen Innovations
For more information about the new Black Diamond G3, visit http://www.screeninnovations.com
About Screen Innovations
Screen Innovations leads the market in US-manufactured projection screens. We employ an industry-specific engineering staff and advanced robotics to create cutting edge screen technologies. Black Diamond is a key example, allowing any projector to perform well in either a bright or dark environment by rejecting ambient light, while enhancing projector contrast by over 900%. In-house manufacturing permits complete control over product development, quality assurance, and on-time delivery, providing consumers with an outstanding counterpart for today's projectors.
mozi121 posts on May 20, 2011 14:36
"Reference Motorized G3 is the latest example of how SI is changing the projection screen landscape," said Ryan Gustafson, president of Screen Innovations
Post Reply