Sceptre X420BV-FHD 42-inch LCD TV Preview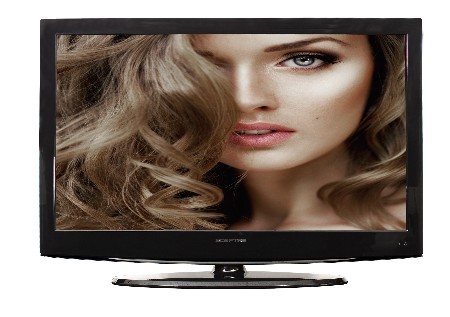 Sceptre X420BV-FHD 42-inch LCD TV
Sceptre revealed a new wall mountable, swiveling 42-inch LCD HDTV in a stylish glossy finish. Inspired by the four "E"s – exquisite design, efficiency, economical and environmentally-friendly - this 42-inch 1080p LCD HDTV impresses by incorporating features found in more expensive displays. This simple yet elegant TV features a curved front frame, crystal clear display, stunning imagery and sleek design, boasting 1.06 billion display colors for a broader range of distinct colors and a more vivid/realistic viewing experience. Plus, the 1080p widescreen resolution creates sharper, clearer images, which will not cost you a fortune.
Plus, it has a rapid 5ms response time and comes with SPDIF digital audio output, an all in one ATSC/NTSC/QAM tuner and 3 HDMI ports for added functionality. These added HDMI ports allow users to connect various peripherals, including Blu-ray players, personal computers, AV receivers and video game consoles. The embedded VGA port makes transitioning from TV to PC monitor quick and easy.
This large widescreen display is the perfect addition to any home or public entertainment room – or anywhere you want to watch your favorite movies or TV shows. It also can function as signage for company display, though we haven't seen too many Sceptre TVs used in this manner.
Features & Specifications
Screen size 42"

Sleek and slim design

Display colors: 1.06 billion

Auto dynamic contrast enhancement

Contrast ratio: 4,000:1 (typical)

3 HDMI ports

Response Time: 5 ms

Resolution: 1920 x 1080

Energy Star 3.0

USB port supports JPEG/Audio

Headphone jack

10 watts x 2 Stereo Speaker

SPDIF Digital Audio Output

Brightness 500 cd/m2

ATSC/NTSC/Clear QAM

Swivel (up to 30 degrees)

Available for just $599 MSRP, this 42-inch LCD HDTV can be purchased at Sears, Target, Amazon, K-Mart and NewEgg.
For more information, please visit www.sceptre.com.
About Sceptre
Headquartered in City of Industry, California, the hub of the computer industry, Sceptre is an internationally certified manufacturer of world class LCD and LED flat panel monitors. Established in 1984, Sceptre is fully committed to maintaining its status as a leader in the industry by providing the latest advanced technology in LCD and LED displays at affordable prices with tailored service programs. For more information, please visit www.sceptre.com.