Sceptre Launches Galaxy Series LED HDTVs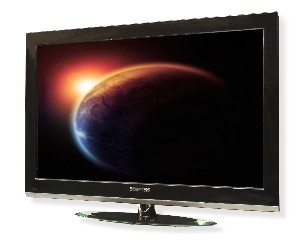 Sceptre Galaxy Series
Sceptre, manufacturers of world class LED and LCD TV and PC monitors, has just announced its new Galaxy Series – an out-of-this-world line of LED HDTVs that combines modern form and advanced functionality into an ultra-slim, lightweight design, spicing up the otherwise boring home entertainment center. This advanced performing line includes various sizes ranging from 19-inches to as large as 42-inches plus, including the newest addition, a 32-inch LED HDTV. Compared to traditional LCDs, these much slimmer, sleeker models offer superior on-screen imagery and more vivid colors without the added bulk/weight associated with older LCD models.
"Our customers deserve the very best – the ultimate entertainment experience without compromising on style, affordability and functionality," said Cathy Chou, vice president of operations, Sceptre. "As one of the first companies to enter the revolutionary LED space, we are committed to exceeding our customers' expectations and making them loyal supporters for life."
Defining Characteristics of the Galaxy Series

LED Display
Compared to bulkier LCD HDTVs, these sleek widescreen LED units are less than 2 inches deep at their thickest points. Featuring ultra-fast response times and superior LED displays for bolder/brighter colors and crisper images, this new series packs a powerful and visually stimulating punch. Not to mention that the ultra-lightweight design makes it easy to transfer from the kitchen to the bathroom, to the office and back again.
Aesthetic Appeal
The sleek design and black high-gloss finish of these LED HDTVs create a cleaner, more versatile look, making them ideal to incorporate into any room's décor. The unparalleled beauty of these HDTVs can not only be seen through the stunning color display, but also when taking center stage as the main focal point of any living area.
Multi-Functional
The availability of multiple HDMI ports further expands functionality, allowing users to connect various peripherals, including external DVD players, personal computers, AV receivers and video game consoles. Users can even view digital photos or listen to music via the integrated USB port. All connections and ports are located conveniently on the side frame of the HDTVs for easy access/control.
Environmentally Friendly
Compared to traditional LCDs, these LED HDTVs house superior functionality and high-class aesthetics without compromising sustainable, eco-conscious design. They are Energy Star complied and use about 20-30% less energy than other competing models, meaning reduced environmental impact and increased money savings for consumers. Additionally, these LEDs take 40% less materials to manufacture, reducing weight and waste.
GX-I Series
Under the Galaxy Series umbrella is the GX-I Series, Sceptre's complete line of widescreen LED HDTVs with inconspicuous embedded DVD players. To view DVDs, simply slide the disc into the thin slot located on the back panel. Voila – enjoy your favorite movies and television shows without clutter from cords or external DVD devices.
Announcing the Galaxy Series 32-inch LED HDTV

New to the Galaxy Series is the 32-inch LED HDTV. This sleek widescreen unit is .88" and 1.85" at its thinnest and thickest points, respectively, and saves about 30 percent more energy than comparable LCD HDTVs.
The most unique design element of this particular model is its signature tempered glass swiveled stand complete with smooth beveled edges, which not only adds a level of sleek dimension and sophistication but also offers various angles at which the screen can be viewed.
This new LED backlight technology paired with the elegance and strength/durability of traditional beveled glass makes these HDTVs the ultimate home entertainment solution. Plus, to get the most out of your HDTV, Sceptre includes an HDMI cable at no extra cost (regularly a $30 value).
Additional Product Specifications

Active screen size 31.5"

Auto contrast enhancement

Three HDMI ports, support up to 1080P

Response Time 6.5 ms

Only .88" to 1.85" thick

Resolution 1366 x 768

Energy Star 3.0 complied

USB port supports JPEG/Audio

10W x 2 Stereo Speaker

Brightness 400 cd/m2

Tempered glass stand with swivel ability

Model number: E320BV-HD

Available for just $699 MSRP, this 32-inch LED HDTV can be purchased at Target, Sears, Dell, Amazon, Costco and NewEgg.
Stay tuned for new models soon to be added to the industry-impressive Galaxy Series, which will grow to include a 19-inch (Model: E195BV-HD) priced at $219 MSRP, a 24-inch (Model #E246BV-FHD) priced at $399 MSRP and a 42-inch (Model #E420BV-F120) for $1,299 MSRP – available at various nationwide retailers.
For more information, please visit www.sceptre.com. To request more information or images on these 32-inch HDTVs or the entire Sceptre product line, contact PR representative Jenny Coleman at (305) 576-1171 x24 or [email protected]
About Sceptre
Headquartered in City of Industry, California, the hub of the computer industry, Sceptre is an internationally certified manufacturer of world class LCD and LED flat panel monitors. Established in 1984, Sceptre is fully committed to maintaining its status as a leader in the industry by providing the latest advanced technology in LCD and LED displays at affordable prices with tailored service programs. For more information, please visit www.sceptre.com.
AccessGuy posts on September 05, 2010 15:56
Class

I think what Sceptre is going for in their "Galaxy" series is more like "Out of this World Class"
jinjuku posts on September 03, 2010 18:28
Sceptre = World Class?
Post Reply