Sceptre Introduces Galaxy Series 42-inch 120Hz LED HDTV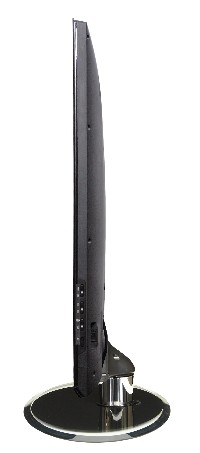 Sceptre E420BV-F120 LED LCD TV
Sceptre has just announced the addition of its new 42-inch 120 Hz LED HDTV to its contemporary Galaxy Series line of LED HDTVs that combines modern form and advanced functionality into an slim, lightweight design that is sleek and aesthetically pleasing for any home decor. Plus, the shiny black finish creates an eye-catching appeal, boosting the room's level of sophistication. The stunning Galaxy Series includes LEDs of various sizes ranging from 19-inches to 42-inches. Compared to traditional LCDs, these much slimmer, sleeker models offer superior on-screen imagery and more vivid colors without the added bulk/weight associated with older LCD models. This sleek 42-inch LED HDTV weighs just 38.6 lbs and is .9" and 1.75" at its thinnest and thickest points, respectively. It even saves about 36 percent more energy than comparable LCD HDTVs.
This wall mountable 42-inch LED HDTV doesn't just boast superior exterior qualities. The unit's 120Hz refresh rate is twice the speed of "standard" 60Hz models. This means the images are crisper/cleaner and the susceptibility of motion blur with fast-motion video content is significantly reduced. It's not just the visual quality that Sceptre prevails, the company also offers an Equalizer setting for users to adjust and control the tone/volume of the audio, creating a more immersive sound experience.
The added bonus to this particular model is the 5 HDMI ports, which allow users to connect various peripherals, including Blu-ray players, personal computers, AV receivers and video game consoles. Three of these HDMI are located on the side of added convenience and the extra USB port allows for photo/audio enjoyment, further expanding its endless functionality.
The most prominent feature of this particular model is the tempered glass swiveling stand, complete with classic beveled edges, that adds a new level of sleek dimension and class. The glass allows light to shine through for added brilliance and sophistication.
This new LED backlight technology paired with the elegance and strength/durability of traditional beveled glass makes these HDTVs the ultimate home entertainment solution. Plus, to get the most out of your HDTV, Sceptre includes an HDMI cable at no extra cost (regularly a $30 value).
Additional Product Specifications

Active screen size 42"

Sleek and slim design

Auto dynamic contrast enhancement

Typical 4,000:1

5 HDMI ports, support up to 1080P

120Hz refresh rate

Response Time 6.5 ms

Only .9" to 1.75" thick

Resolution 1920 x 1080

Energy Star 4.0 complied

USB port supports JPEG/Audio

10W x 2 Stereo Speaker

Brightness 450 cd/m2

ATSC/NTSC/Clear QAM

Tempered glass stand with swivel ability (up to 45 degrees)

Wall mountable: VESA MOUNT 200x200

Model number: E420BV-F120

Available for just a competitive $999 MSRP, this 42-inch LED HDTV can be purchased at Target, Sears, Amazon, Kmart and NewEgg.
For more information, please visit www.sceptre.com.
About Sceptre
Headquartered in City of Industry, California, the hub of the computer industry, Sceptre is an internationally certified manufacturer of world class LCD and LED flat panel monitors. Established in 1984, Sceptre is fully committed to maintaining its status as a leader in the industry by providing the latest advanced technology in LCD and LED displays at affordable prices with tailored service programs. For more information, please visit www.sceptre.com.
allargon posts on November 03, 2010 13:29
Too bad you guys aren't reviewing this. I'd love to see if Sceptre improved their image quality. Traditionally they were down there with Polaroid and Io.

Sceptre's picture quality usually makes Westinghouse look like Pioneer.
Post Reply