SBS Innovations Intros the "iShok" Case for iPod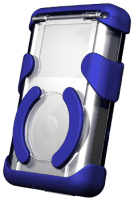 December 15, 2005 - SBS Innovations debuts iShok case for portable electronics. SBS Innovations, a manufacturer of accessories for portable consumer electronic devices, is pleased to announce a new line of protective cases, ShokProof brand, and its premier product, the iShok. The new iShok 4G20 Protective Case protects the iPod media player from accidental damage through a unique combination of hard plastic and soft rubber, in a sleek and stylish design.
The iShok 4G20 is the first case to provide a wraparound shield of protection with a removable Click Wheel cover that offers optional access to controls. iShok also features a unique snap closure, a built- in stand, and a formfitting shape that protects without adding bulk. Chief Executive Officer of SBS Innovations, Marc Bloom, stated "The iShok case is not just another rubber or leather skin for the iPod, but a real protective shell.

Our product combines hard plastic and soft rubber in a design that is both aesthetically appealing to consumers and provides confident protection for their valuable investments. iShok Cases are Sound Protection. "The premier iShok model is custom designed for the iPod 4G 20GB model. The product line will eventually cover the entire iPod series, including the Nano, Video and Shuffle. The iShok protective case has been available for purchase since September, 2005. For purchasing or product information, visit www.iShok.com or call 800-839-1594.

The ShokProof brand Product line will include protective case accessory designs for portable devices ranging from handheld and tablet computers, personal digital assistants (PDAs), SmartPhones, Digital music players.
iShok is a registered trademark of SBS Innovations, Inc. All other products and brand names are registered trademarks of their respective owners.