Savant Introduces 16-channel Class D Amplifier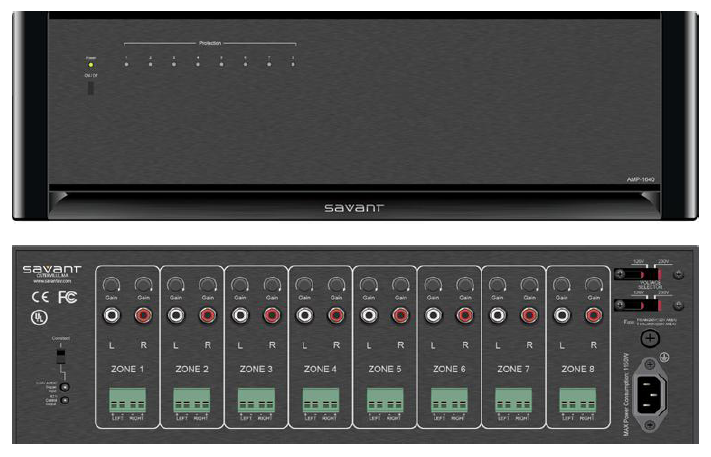 Savant 16-channel Class D Amplifier
Savant Systems LLC, having delivered the first Apple-based home automation and control system, has announced the introduction of a 16-channel class D amplifier for distributed audio applications. AMP-1640 is in direct response to market demand for a multi-room audio amplifier that leverages Savant's elegant industrial design, delivering the same look and feel as Savant's other rack mountable devices. AMP-1640 is the ideal solution when paired with Savant's multi-room audio products and can be placed either on a shelf or within an equipment rack.
16-Channel Multi-room Digital Audio Power Amplifier
AMP-1640 is an ultra-efficient Class D amplifier delivering 16 channels of reliable amplification rated at 40 Watts per channel into 8- Ohms in a 3 rack-space metal enclosure. The extraordinary power supply design provides the energy necessary to deliver a rich musical experience to a house full of speakers. AMP-1640 features RCA phono input jacks and screw terminal speaker connections that can accommodate up to 14-gauge standard speaker wire.
Features
Class D amplifier design

40WPC @ 8 Ohms, 50WPC @ 4 Ohms (0.1% THD+N, 1kHz)
Distortion < 0.07% THD+N from 20Hz to 20kHz
Frequency Response: 20Hz to 20kHz + 0.8dB
Signal-to-Noise Ratio > 90dB
40WPC @ 8 Ohms, 50WPC @ 4 Ohms (0.1% THD+N, 1kHz)
Independent gain controls for all channels
Easily configured for stereo or mono applications
Manual and Trigger turn-on modes
Input Trigger: 5 - 24 V AC/DC
Output Trigger: 12VDC (100mA)
Power Requirements: 120 VAC 60Hz 10A (N. America)
Power Requirements: 230 VAC 50Hz 5A (Europe)
Fan-less design with overload protection front panel status indicators
AMP-1640 can be rack or shelf mounted
About Savant
Savant was founded by a core group of technology pioneers with hundreds of years of combined real-world experience in peripheral applications such as programmable systems, digital signal processing, telephony, switching systems, video processing, and home electronics integration. The Savant Team is committed to redefining the Home Control Systems industry with a visionary solution to home automation that emphasizes reliability and a maintenance-friendly open platform. The Savant product suite is distinguished by an unparalleled blend of cutting-edge technology and advanced next-generation graphics. www.savantav.com