Sanyo PLC-HF15000L Large Venue Projector Preview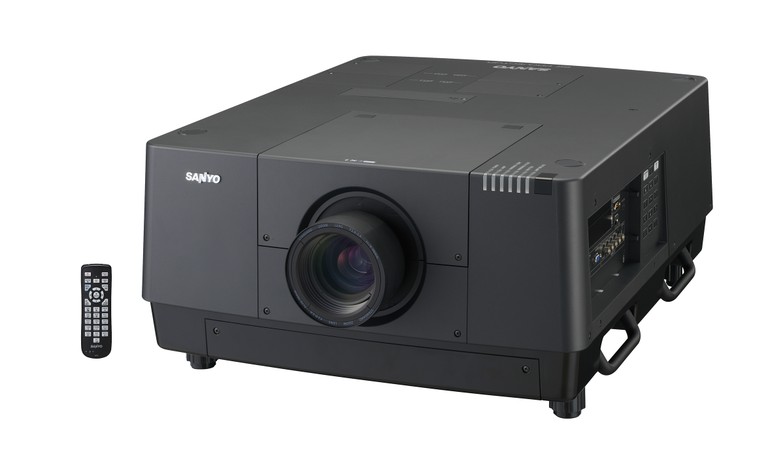 PLC-HF15000L projector
Sanyo North America Corporation announced today a new professional projector with an extraordinary brightness of 15,000 ANSI Lumens that is unmatched by other projectors in its class. The PLC-HF15000L utilizes Sanyo's exclusive QuaDrive technology to produce superior color accuracy with a very wide color gamut, providing Real 2K digital cinema performance that exceeds Full HD requirements at 2048 x 1080 resolution. Designed for the mid to large venue presentation, staging and digital signage markets, the PLC-HF15000L (lens sold separately) is scheduled for release in December 2010, with an MSRP of $44,995.
The QuaDrive engine advances beyond conventional 3 LCD systems by adding a yellow color control device to the existing red, green and blue elements. The additional control of the amount of yellow light in the image increases color purity and accuracy, produces a wider color gamut and enables higher brightness levels. A new long-life inorganic 2K LCD panel enables the PLC-HF15000L to achieve resolution greater than Full HD in a 17:9 aspect ratio. Housing four high output 380 W lamps and using unique cooling technology, the projector achieves a record brightness of 15,000 lumens in a high-efficiency, energy-saving design. This extraordinary brightness makes it suitable for applications where other projectors may be inadequate, including large exhibition halls and auditoriums and conference rooms, as well as for dramatic digital signage applications.  
"By setting a new standard for brightness in its category, and using our most advanced technologies that include QuaDrive, a long life DIOS (Durable Inorganic Optical System) engine and widescreen 2K resolution, the PLC-HF15000L performs superbly in even the largest presentation environments. We see it creating new opportunities for large format digital signage, even in well-lit spaces. Furthermore, its operational flexibility and features enable its effective use in rooms of virtually any size, with low operational and maintenance costs."
- Sam Malik, Vice President of Sanyo's Digital Solutions Division, and General Manager of the Corporate Solutions Group
Dust in the optical and mechanical systems of a projector can hurt performance and reduce service life. Sanyo's Active Maintenance Cleaner (AMC) system is the most advanced yet, protecting critical components for an incredible 12,000 hours before a filter change is required. By using an intake air volume monitoring system that determines the current effectiveness of the filter, AMC will clean the filter surface automatically based on a time requirement or by using its automatic clog detection capabilities to provide a clean optical surface. Also, while the standard filter will help protect against dust, Sanyo is also offering an optional "Smoke Filter" (model POA-FIL160) that can help protect against smoke from sources like cigarettes and other fine airborne particles that could enter the projector. This expands the applications for the projector to more public settings, including those where smoking is permitted without its adverse effects to the optical engine. Both of these systems increase long-term reliability and reduce maintenance costs, especially for installations where the projector is mounted in a difficult to reach location where easy access is difficult.
The PLC-HF15000L is equipped with a "Hot Operation Lamp Exchange System" that allows individual lamps to be replaced without turning the projector off. Previous models required a projector shutdown and restart for all bulb replacements. The new hot-swappable system gives operators a smooth, simple way to replace a failed bulb and continue presentations without interruption. To allow use in a very wide range of venues, eleven lens options are available in a variety of focal lengths to accommodate any projector to screen distance. A power zoom with focus control can be remotely operated, as can a motorized lens shift that operates both horizontally and vertically for maximum installation flexibility with sacrificing image fidelity. Where multiple images are required, the PLC-HF15000L can simultaneously display two images, in either picture-in-picture or picture-by-picture modes.
For presentations utilizing multiple projectors, aligned either horizontally or vertically to create a single larger image, variations in image quality between projectors is eliminated through Sanyo's Edge Blending, Color Matching and Constant Brightness functions. Color Matching corrects for any variations in hue between adjacent images, Edge Blending smoothes the transition point between projected images by compensating for differences in brightness, and Constant Brightness creates uniform brightness across the entire image area. Built-in LAN networking facilitates control of the projector or a group of projectors through CAT5 network cabling. For presentation applications where necessary, a mechanical shutter system allows operators to instantly shut off light transmission. Input options include HDMI 1.3; DVI-D; D-sub 15 pin RGB; BNC for RGBHV and CV/Y-Pb/Cb-Pr/Cr; and S-Video, with optional boards available for HD/SD-SDI and Dual Link SDI.
About Sanyo
Sanyo Electric Co., Ltd. is a global, leading provider of energy, environment, and lifestyle applications. The Corporate Solutions Group, is based in Chatsworth, California, and is part of Sanyo North America's Digital Solutions Division (Sanyo North America is a subsidiary of Sanyo Electric Co., Ltd.). The Digital Solutions Division is a service and sales division that markets digital projectors, digital still cameras, digital media camcorders, home appliances, security video equipment, audio systems, portable and mobile electronics and HD televisions. For more information on Sanyo, please visit http://us.Sanyo.com.
BMXTRIX posts on December 15, 2010 22:58
Still, it will be awesome in my family room.

Just saying.
jostenmeat posts on December 14, 2010 22:23
I think it will be over 800 lbs. The 103" has a listed approximate weight of 474 lbs, and 150" is well more than double the size. If it were* truly proportionate in terms of weight, it would be over 1,005 lbs. I've checked out the 103" before, even took a couple of photos including the back with all the fan vents . . . I suppose with a 150", there would be even more serious cooling implementations . . .
BMXTRIX posts on December 14, 2010 20:37
jostenmeat, post: 773866
Careful what you wish for! How much does that thing weigh, how many people will it take, and just how much reinforcement does the wall need if you wall mount it? I hope stairs aren't involved. You won't get that in any typical elevator, not that the elevator would even be spec'd for the gross weight in there.
Well, I think we've got a couple of the 103" models which are on the books to go in next year, so I figure it is only a matter of time… mostly the time it will take to actually have Panasonic add it to their website.
Strangely, certain companies will knock out walls or build very special things to get some specialty items in place. More often this goes in lobbies of very high profile businesses.
Probably 800 pounds I expect.
On the PLUS SIDE… I wouldn't have to install it, but just would be the engineer making sure it all works properly.
jostenmeat posts on December 14, 2010 14:41
BMXTRIX, post: 773864
Still want to install a 150" Panasonic. That sucker is inspiring to see.
Careful what you wish for! How much does that thing weigh, how many people will it take, and just how much reinforcement does the wall need if you wall mount it? I hope stairs aren't involved. You won't get that in any typical elevator, not that the elevator would even be spec'd for the gross weight in there.
BMXTRIX posts on December 14, 2010 14:33
I'm a huge fan of the Sanyo projectors for the commercial environment, but almost all the larger and nicer venues have started to move to Digital Projection as their standard. The high end 3-Chip DLP models from them tend to be about twice as much for similar specifications, but typically when you have a need for 15,000 lumens, it's because the screen is in a $1,000,000+ facility, and they want that real added quality of 3-chip DLP vs. LCD.

Not exactly a home use product unless you don't have good light control in your theater, and DO have a dedicated projection room. I installed their older PLV-WF10 which was a 1365x768 projector into a room about a year ago and the fan noise on that sucker was ridiculous in the room. Very distracting and unwanted.

We just had a room that called for the WF20 (an upgraded WF10) which I changed out for a Sanyo 1080p model, but then changed to a Digital Projection model. The difference in noise output was truly remarkable as the DP is barely audible in the room.

As well, the 6,000 lumens delivered on a 100" 16:9 screen was completely pointless. With a 1,500 watt halogen light shining on the screen we still had a perfectly usable image. It was ludicrous! We dropped it into single lamp mode and it is more 'typical' for that size of screen in that environment, but I would happily use DP again as I continue to use Sanyo.

Unfortunately, the world is moving away from projection in the commercial environment in favor of large format flat panels.

Still want to install a 150" Panasonic. That sucker is inspiring to see.
Post Reply