Sanyo Business LCD Projectors Announced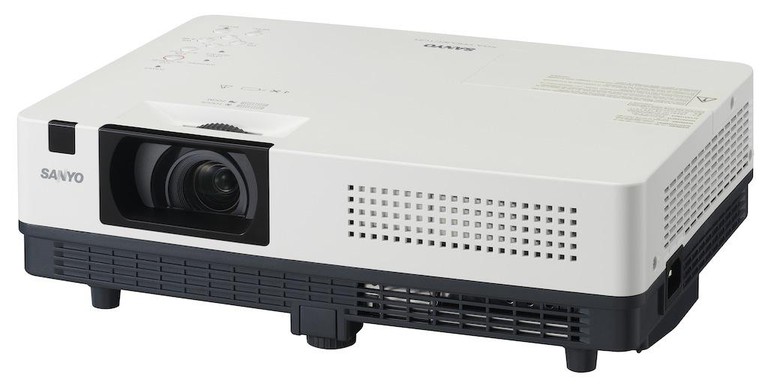 Sanyo PLC-WK2500 LCD projector
Sanyo North America announced the introduction of two series of ultra portable 3LCD projectors targeted for the educational and business markets. The new XK and WK series projectors offer improvements in lamp and filter life, thereby reducing both costs and time required for maintenance. All four models share a compact size (13.1" x 4.0" x 9.7") and light weight (6.4 lbs.), making them highly portable and easy to transport.
Capable of producing bright images in classrooms and meeting rooms, the projectors are suitable for virtually any application, even in large spaces. Four projectors are being introduced:
PLC-WK2500 has WXGA resolution and a 16:10 aspect ratio, with a contrast ratio of 3,000:1 and 2500 lumens brightness
PLC-XK3010 has XGA resolution, a 2,000:1 contrast ratio and 3,000 Lumens brightness
PLC-XK2600 has XGA resolution, a 2,000:1 contrast ratio and 2,600 Lumens brightness
PLC-XK2200 has XGA resolution, a 2,000:1 contrast ratio and 2,200 Lumens brightness
"These new projectors offer significantly lower long-term operating costs in comparison to existing and legacy projectors, making them an attractive proposition to educational facilities and businesses anticipating tight budgets over the next few years," says Sam Malik, Vice President of Sanyo's Digital Solutions Division, and General Manager of the Corporate Solutions Group. "Our new long-life lamps, optics and filters mean less down time and a longer time between replacements."
Extended lamp and filter life are the key elements that make these projectors highly economical to operate. In Eco mode, for example, lamp life is extended to double that of conventional models, increasing to 6,000 hours in Eco mode. New filter technology also reduces cost and maintenance time through an increase in both efficiency and a longer interval between filter replacements. Using nearly six times the collection area as previous filters and a new three-layered structure that improves its dust-collecting capacity by a factor of 20, the new design increases the expected filter life to 5,500 hours in Eco mode.
Even with an extended bulb life, these projectors display images with a high contrast ratio. An automatic iris control increases the contrast ratio by monitoring and detecting the requirements of the image and adjusting the amount of light as needed for the relative brightness or darkness of the picture.
For multimedia presentations, an onboard high-output 10-watt audio amplifier and loudspeaker eliminate the need for separate electronics and external loudspeakers, even in large classrooms and conference rooms. Further flexibility allows a microphone to be connected to the projector for amplification through the onboard amp and speaker. 
First-time users will find setup easy to accomplish by using Sanyo's Auto Setup Function, which applies compensation for any vertical image distortion by analyzing the source and detecting the incline angle of the projector. In addition, a Screen Guidance Function instructs the operator through step-by-step instructions displayed on screen.
Each projector can be monitored and controlled through a wired LAN connection. Through a back panel RJ-45 connector, operators can switch between inputs, power the projector on and off, monitor lamp usage and receive error messages and warnings. All models are PJ Link compatible.
Additional features include user-customizable logos for both startup and for display during presentations, plus the ability to blank the screen and freeze images. Also provided is a presentation timer and closed-caption text capability.
The PLC-WK2500 is scheduled for November 2010 availability at an MSRP of $995. The XK series models are scheduled for December release, with the following MSRPs:
PLC-XK3010 is $1145
PLC-XK2600 is $995
PLC-XK2200 is $845
Specifications
                               PLC-WK2500        PLC-XK3010        PLC-XK2600        PLC-XK2200
Aspect Ratio:                     16:10                4:3                4:3                4:3
Resolution:                      1280x800            1024x768           1024x768           1024x768
Brightness:                    2,500 lumens       3,000 lumens        2,600 lumens       2,200 lumens
Contrast Ratio:                   3000:1             2000:1              2000:1             2000:1
Screen Size:                                                 40" – 300"
Video Input Terminals:             D-sub 15 pin  (Analog RGB Component and S-Video with adapter)
                                             D-sub 15 pin (Analog RGB or Monitor Out)
                                                          RCA (Composite)
Audio Terminals:                           Mini Jack (Stereo - Microphone/Computer In)
                                                      RCA Jacks (L/R Stereo)
                                              Mini Jack (Stereo – Variable Audio Out)
Control Ports:                                 Wired LAN: RJ-45; D-sub 9 pin (RS232C)
Dimensions:                     13.1"/333.5mm (W) x 4.0"/101.0mm (H) x 9.7"/247.0mm (D)
Weight:                                                   6.4 lbs./2.9kg
About Sanyo
Sanyo Electric Co., Ltd. is a global, leading provider of energy, environment, and lifestyle applications. The Corporate Solutions Group, is based in Chatsworth, California, and is part of Sanyo North America's Digital Solutions Division (Sanyo North America is a subsidiary of Sanyo Electric Co., Ltd.). The Digital Solutions Division is a service and sales division that markets digital projectors, digital still cameras, digital media camcorders, home appliances, security video equipment, audio systems, portable and mobile electronics and HD televisions. For more information on Sanyo, please visit http://us.sanyo.com.