Sanus Releases VXF220 All-Weather Full-Motion Mount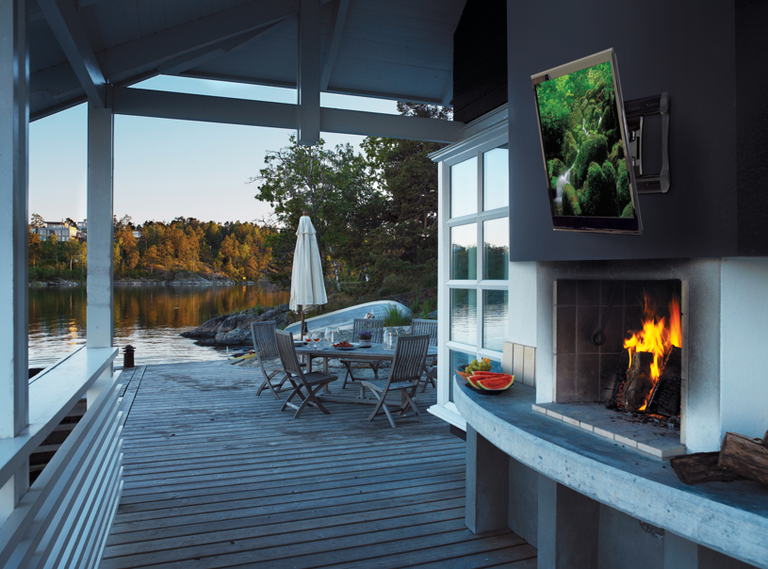 Sanus VisionMount VXF220
Sanus Systems, the leading global brand of audio/video mounts, furnishings and consumer electronics accessories, announces it is now shipping an all-weather mount for 42"-75" flat-panel TVs weighing up to 175 lbs.
The VisionMount VXF220 All-Weather Full-Motion Mount is manufactured with a special rust-resistant coating and stainless steel hardware and has been rated to withstand rain, snow and salt, making it an ideal choice for indoor/outdoor use. The mount offers robust, dual extension arms that support even the largest TVs and allow the user to extend the TV up to 20" from the wall, tilt, swivel and pan it in any direction.
Exclusive features include

Virtual Axis tilt technology for easy viewing angle adjustment with the touch of a finger

FollowThru channels for complete cable concealment and protection the entire length of the mount's dual extension arms

The QuickConnect system, allowing the mounting head to snap onto the arm assembly and lock into place

ProSet post-installation height and leveling adjustment

The VXF220 also offers easy installation with the capability to shift the TV left or right on the wall plate for perfect centering on the wall and wall plate mounting holes that accommodate both 16" and 24" studs.
The VXF220 is now available for a list price of $579.99 USD.
About Sanus Systems
Sanus Systems®, a division of Milestone AV Technologies, designs and builds fine AV mounts, furniture, stands and accessories. Every Sanus product is engineered to enhance AV systems and the surrounding décor. Today Sanus offers more than 300 home theater units, TV and audio stands, mounts, speaker supports, AV equipment racks and accessories. Sanus products are available at thousands of retail locations worldwide and can be seen at the company's website: www.sanus.com.