Sanus VisionMount VMPL50A Tilting TV Wall Mount Preview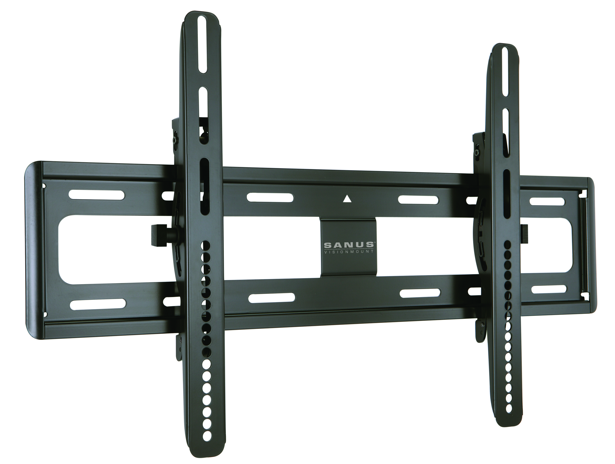 Sanus VisionMount VMPL50A Tilting Wall Mount
Sanus, the leading global brand of audio/video mounts, furnishings and consumer electronics accessories, announces the release of the VisionMount VMPL50A tilting TV wall mount. The VMPL50A is a redesign of one of Sanus' most popular mounts, the VMPL50, with newly incorporated technologies for easy installation, a lower profile, an open wall plate for cable management and an updated size range for larger TVs.
Updates to the product include Sanus' ProSet technology, so the installer can adjust the height and level the display after hanging, and TV brackets that easily snap into place on the wall plate for added safety and ease of installation. An improved profile allows the display to sit just 1.8" from the wall for a low-profile look. The size range has also been expanded to support larger flat-panel TVs from 32" - 60" and up to 150 lbs.
Like the VMPL50, the VMPL50A also features Virtual Axis technology for simple viewing angle adjustment and lateral shift for perfect positioning of the TV on the wall.
"With a new slimmer design and added snap-on brackets for improved safety and installation time, we've made one of our most popular mounts even better."
- Jeff Lasch, Sanus product manager
The VMPL50A is now available for a list price of $149.99 USD.
About Sanus
Sanus, a division of Milestone AV Technologies, designs and builds fine AV mounts, furniture, stands and accessories. Every Sanus product is engineered to enhance AV systems and the surrounding décor. Today Sanus offers more than 300 home theater units, TV and audio stands, mounts, speaker supports, AV equipment racks and accessories. Sanus products are available at thousands of retail locations worldwide and can be seen at the company's website: www.sanus.com.