Sanus Debuts ELM701 Anti-tip Strap System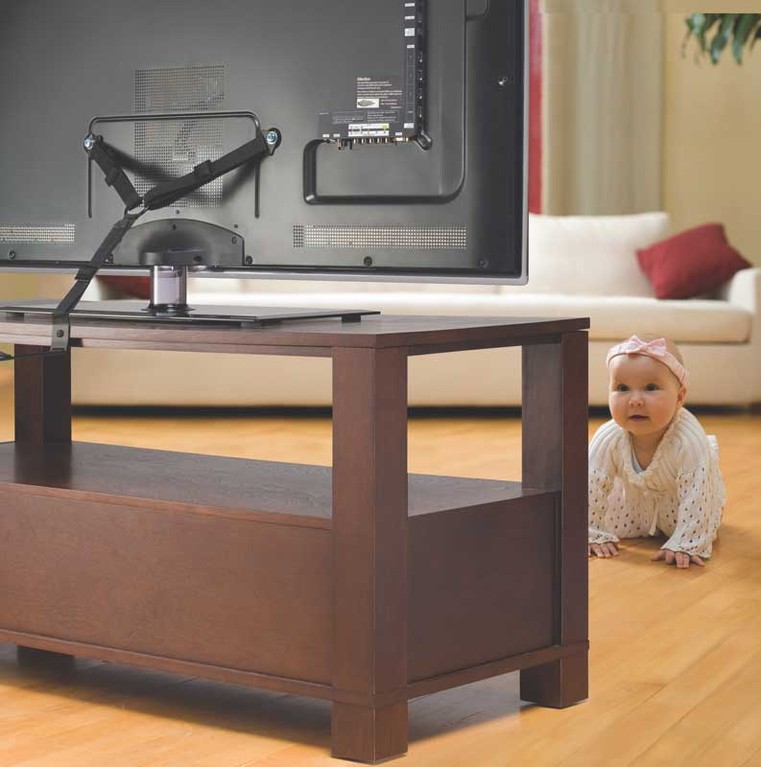 Sanus ELM701 Anti-tip Strap System
Sanus recently announced a home accessory product designed to minimize the chance of flat-panel TVs and furniture tipping over due to accidental bumping or nudging. The Sanus Elements ELM701 Anti-Tip Strap features a durable, shock-resistant, polypropylene strap that provides a secure four-point connection. It connects twice to the back of the TV, once to the back of furniture and once to the wall.
The product is a direct response to a 2009 study by Nationwide Children's Hospital in Columbus, Ohio, which reported nearly 17,000 children were admitted to emergency rooms in 2007 (the last year complete figures were available) when furniture or TVs had fallen on them, a 41 percent increase since 1990. The study attributed the increase to the popularity of large flat-panel TVs with consumers and unstable furniture. None of the TVs or furniture they were placed on were properly secured.
"The low-profile design of today's flat-panel TVs and furniture makes them prone to tipping, so even the slightest bump could cause them to fall. Our ELM701 Anti-Tip Strap reduces this risk by providing a secure connection of the television to furniture and the furniture to the wall."
- Jason Schmidt, product manager for Sanus
The Sanus Elements ELM701 Anti-Tip Strap's universal design works with nearly all furniture and flat-panel TVs up to 60". All hardware is included.
The strap is currently available for a list price of $24.99.
About Sanus
Sanus, a division of Milestone AV Technologies, designs and builds fine AV mounts, furniture, stands and accessories. Every Sanus product is engineered to enhance AV systems and the surrounding décor. Today Sanus offers more than 300 home theater units, TV and audio stands, mounts, speaker supports, AV equipment racks and accessories. Sanus products are available at thousands of retail locations worldwide and can be seen at the company's website: www.sanus.com.