Samsung YP-T5V MP3 Player - World's Smallest?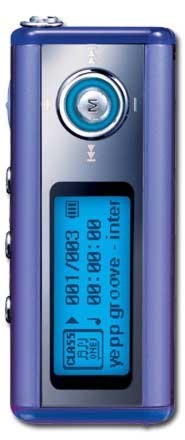 Ridgefield Park, NJ - The votes are in, and America's top-selling embedded flash-based digital audio player is Samsung's YP-T5V, which ranked first in the latest NDP/Intellect report. With just one look, it's easy to understand why something so small is in such great demand.
The 256 MB YP-T5V allows users to play music in virtually any format available, including MP3, WMA, Secure WMA, WAV and for even higher quality playback, SRS WOW sound technology. The YP-T5V, which recently received PC Magazine's "Editor's Choice" award, also houses a built-in FM tuner and voice recording feature for capturing notes anywhere, anytime. In addition to music, voice notes and a radio, the unit is also a removable storage device that offers fast file transfer with a direct USB adapter.
All this technology is packed in a tiny 23 x 54 x 23 mm case, barely larger then a AA battery, that weighs only 24g (0.85oz, without battery). Don't worry about losing juice on the run either, because one AAA battery provides up to 15 hours of playback. The text viewer LCD comes in a choice of seven different colors. Also included is a necklace strap for easy access and total convenience.
"Samsung is proud to receive this distinction from our customers," says Mark Farish, Marketing Manager, Samsung Electronics America. "Our flash-memory players are designed for people who want an easy way to enjoy their digital music collections in a small, stylish package. For those who want to take pictures, presentations or homework with them in addition to music, the multi-file storage device feature is a huge added benefit."
Samsung Electronics America, Inc., a leader in consumer digital audio, offers many high performance models in their award winning YEPP Digital Audio Series. Equipped with features ranging from stop watches, hear rate monitors and calorie counters to equalizers and enhanced sound capabilities, the YEPP line offers a host of options for active lifestyles. These models are the latest in Samsung's series of advanced products built for music lovers who want the ultimate in style and portability at home, work and play.
The Samsung YP-T5V (MSRP $149.99) is currently available at Best Buy, Circuit City, Office Depot and other select electronics retailers. For more information on product availability, go to http://www.samsungusa.com
About Samsung Electronics America, Inc.
Headquartered in Ridgefield Park, NJ, Samsung Electronics America, Inc. (SEA), a wholly owned subsidiary of Samsung Electronics Co., markets a broad range of award-winning, advanced digital consumer electronics and information systems products. The SEA organization oversees the North American operations of Samsung Telecommunications USA, Samsung Electronics Canada and Samsung Electronics Mexico. Please visit www.samsungusa.com for more information.
About Samsung Electronics
SAMSUNG Electronics Co., Ltd. is a global leader in semiconductor, telecommunication, digital media and digital convergence technologies with 2003 parent company sales of US$36.4 billion and net income of US$5.0 billion. Employing approximately 88,000 people in 89 offices in 46 countries, the company consists of six main business units: Corporate Technology Operations, Digital Appliance Business, Digital Media Business, LCD Business, Semiconductor Business and Telecommunication Network Business. Recognized as one of the fastest growing global brands, Samsung Electronics is the world's largest producer of color monitors, color TVs, memory chips, TFT-LCDs and VCRs. ( www.samsung.com )