Samsung Announces Explore 3D Video App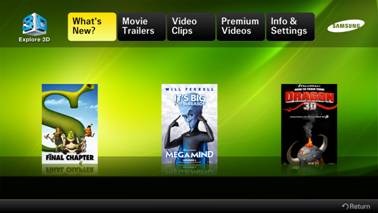 Samsung 3D App
To meet the ever-growing demand for 3D content and immersive home entertainment, Samsung announced its beta version of the "Explore 3D" video app, available for free download from Samsung Apps, the world's first HDTV apps store.
"Explore 3D" is the first application we've heard of that provides streaming 3D content via the Internet. Currently, viewers can access 3D movie trailers from box office favorites Shrek Forever After, Megamind, and How to Train Your Dragon directly on their 3D-capable smart TV from Samsung, without the need for additional equipment such as a Blu-ray player or cable device. Apparently, more content will be made available through this app in the future. With the dearth of real 3D content on Blu-ray, this is one way Samsung can at least begin to justify sales of its new 3D televisions - something that is turning out to be a real bust for most manufacturers this year.
For more infomation please visit www.samsungapps.com.