Samsung DynaFlat HDTV Flat Tube Televisions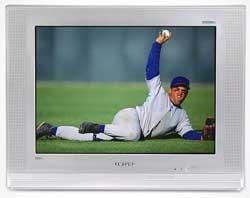 New York - While many companies are touting the promise of HDTV, Samsung Electronics, is making it a more affordable reality with its new series of DynaFlat televisions. Replete with built-in HD tuners, Samsung's new line of DynaFlat HDTVs allow consumers to take advantage of the best picture quality available on the market today.
"Samsung is the only company to offer a complete line of integrated sets -- with four screen sizes -- at under $1,000," said John Lavoie, Marketing Manager for Samsung Electronics America's Visual Display Group. "The introduction of our new DynaFlat line with built-in HD tuners is significant for several reasons. Samsung integrated models meet the 2005 FCC guidelines requiring 25" and larger televisions to have a built-in over-the-air digital tuner. Samsung has adopted the digital/HD tuner well in advance of the mandate to bring our customers the advantages of HDTV today. In addition, our new DynaFlat line offers a variety of designs and features including a Premier series of built-in HDTVs, the Neo Side-Sound models, and a new DynaFlat flagship model offering Wiselink Multi Memory slots. There is now a Samsung DynaFlat HD set to fit every need and every budget."
By building in an over-the-air tuner, Samsung has provided the consumer with compatibility to many new DTV programming choices. The built-in HDTV models work with an antenna to receive free, over-the-air broadcasts of HDTV shows, sports events and movies. There?s also a comfort for the consumer in knowing that their TV can tune HD signals while having the connections to support other HD sources such as a set top box and/or an up-converter DVD player. Another key feature of the new built-in models is the ability to accept digital signals from both 720p and 1,080i sources, displaying them in 1,080i. The better digital-to-digital DVI-HDTV connection with HDCP is now available on all DynaFlat HD models. Plus, DynaFlat HD makes regular TV look better by delivering a crystal-clear progressive scan picture from any analog source. The result for the viewer is smoother action and rock solid pictures - outstanding quality at an outstanding value.
Premiere Series
Samsung lets consumers choose the appropriate HD-ready set that's right for them with several screen sizes to fit any room, that special cabinet or anywhere that a better television can be enjoyed. Its DynaFlat HD Premiere series includes the 26" TXP2670WH, the 30" TXP3071WH and the 32" TXP3271H. Each model is perfect for people who want a High Definition TV that is fun and easy to use. With its sleek, simple design each model in the Premier series offers a small footprint with a big picture in a cabinet that blends perfect with any decor. For film connoisseurs, each has progressive scan DVD (480p) compatibility and Samsung's 3:2 Pull Down process that corrects the flaws inherent in film to video transfers. The TXP2670WH, the TXP3071WH and the TXP3271H have expected street prices of $699.99, $999.99, and $1199.99, respectively.
Neo Side-Sound Series
The new Neo Side-Sound built-in HDTVs include the 26" Wide TXP2675WH, the 27" TXP2775H, the 30" Wide TXP3075WH and the 32" TXP3275H. In addition to its DynaFlat anti-distortion, anti-glare flat picture tube that displays rock solid images only HDTV can deliver, these models come with dynamic stereo side speakers to complement the experience. A 20-watt stereo with a multi band adjustable equalizer allows consumers to take advantage of the sound from the side speakers. With the design of the Neo Side-Sound series, Samsung has created a clean uncomplicated look to the front of the set by moving the buttons and jacks to the side where they are out of the way yet available if needed. The street price of the TXP2675WH is $699.99, the TXP2775H is available for $799.99 and the street price of the TXP3275H is $999.99.
Rounding out Samsung's new DynaFlat TV models with built-in HDTV tuners is the 30" wide screen TXP3076WH. This model incorporates Wiselink multi-memory slots to offer the great performance of an HDTV combined with a convenient digital picture viewer. The TXP3076WH can display JPEG files and MP3 music files from five different kinds of multi-memory formats. In addition to the fun feature of Wiselink there is a significant picture performance feature. Samsung?s exclusive Digital Natural Image Engine (DNI-e) picture enhancement technology analyzes and improves contrast, motion, detail and color. The TXP3076WH has a street price of $1199.99.
About Samsung Electronics America, Inc.
Headquartered in Ridgefield Park, NJ, Samsung Electronics America, Inc. (SEA), a wholly owned subsidiary of Samsung Electronics Co., markets a broad range of award-winning, advanced digital consumer electronics and information systems products. The SEA organization oversees the North American operations of Samsung's Consumer Electronics Division (CED), Information Technology Division (ITD), as well as its subsidiaries including Samsung Telecommunications America (STA) and Samsung Semiconductor Inc (SSI). Please visit www.samsungusa.com for more information.
About Samsung Electronics
Samsung Electronics Co., Ltd. is a global leader in semiconductors, telecommunications, and digital convergence technology. The company employs approximately 75,000 people in 87 offices in 47 countries, and posted record US $36.9 billion in sales and US $5.05 billion in net income in 2003. Samsung Electronics is the world's leading manufacturer of advanced semiconductors, TFT-LCDs, CDMA mobile phones, monitors and VCRs.