Samsung Announces LTP468W 46" Largest LCD TV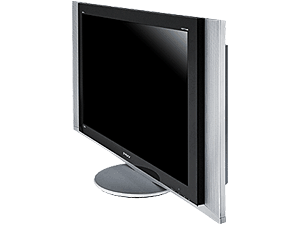 New York, NY - Samsung Electronics announced the introduction of the world's largest LCD TV available to the consumer -- the 46" LTP468W - at the Home Entertainment Show in New York City. Crisp and clear from corner to corner, the new 46" LCD TV will be the first consumer flat-panel TV on the market to boast a 1,920 x 1,080p native resolution, the highest of the 18 ATSC formats.
As a world leader in the manufacture of LCD panels, Samsung's LCD TVs offer an extraordinary combination of crystal clear images housed in the industry's most svelte and attractive cabinets. Having quickly captured the number-two market share position with this blending of function, style and value, Samsung now takes performance to new heights with this largest available LCD display.
"Samsung retains the crown of World's Largest LCD TV but this set is more about performance than size," said Jonas Tanenbaum, Senior Marketing Manager for Samsung Flat Panel Digital Products. "The LTP468W offers an unparalleled balance of design and function plus the world?s finest LCD picture. This shows that larger-sized direct view LCD for home theater is here now."
The LTP468W has an impressive 800:1 contrast ratio and a brightness rating of 500 cd/m². With an industry leading 12-milisecond pixel response time the LTP468W is optimized to handle fast moving video. Horizontal and vertical viewing angles are up to 170 degrees respectively. The LTP468W also boasts Samsung's latest generation of DNI-e picture enhancement circuitry delivering improved contrast, detail, color and video motion optimization. While 1,080p is the format the broadcast industry is moving toward with more and more programming appearing every day, the set's internal high quality scaler can handle any video input format and display the signal in the set's native high resolution.
"The entertainment community is headed in the direction of the 1,920 x 1,080 format, both Interlaced and Progressive," commented Robert Seidel CBS Television Network's Vice President of Engineering & Technology." For the last 5 years CBS has been using the 1920 x 1080 format for all of our HDTV programming including primetime, daytime, movies, special and sports broadcasts. Our sister network MTV produced the MTV music awards in 1,920 x 1,080 /24P. Showtime and UPN are using 1920 x 1080 as well. In fact, of the 23 HD channels or services announced to date, 20 are using the 1920 x 1080 format. If we look at the TV industry as a whole, a significant number of shows currently in production are captured in the 1920 x 1080/ 24P format for all the major networks. So the content is out there."
Like many of its predecessors, Samsung & 339;s LTP468W delivers a variety of outstanding features including 2 tuner PIP, DVI and dual component video inputs. The LTP468W will also add the latest digital video connector - HDMI. Samsung has already broken ground on a 7th generation LCD fabrication plant and will continue to focus on larger LCD's for consumer use, and has already demonstrated a prototype 57" LCD HDTV at the ICES this past January.
The LTP468W boasts a sleek new cabinet housing an impressive JBL® stereo speaker system with 30 watts of total audio power. The latest SRS TruSurround XT technology makes for an exciting simulated surround experience. The sweeping design of the LTP468W's cabinet is impressive indeed and is sure to become the focal point of any high tech or style-savvy home. Sitting atop a round swivel base the set weighs in at less than 100 lbs.
The LTP468W will be available in August 2004 for an MSRP of $9,999.
About Samsung Electronics America, Inc.
Headquartered in Ridgefield Park, NJ, Samsung Electronics America, Inc. (SEA), a wholly owned subsidiary of Samsung Electronics Co., markets a broad range of award-winning, advanced digital consumer electronics and information systems products. The SEA organization oversees the North American operations of Samsung's Consumer Electronics Division (CED), Information Technology Division (ITD), as well as its subsidiaries including Samsung Telecommunications America (STA) and Samsung Semiconductor Inc (SSI). Please visit www.samsungusa.com for more information.
About Samsung Electronics
Samsung Electronics Co., Ltd. is a global leader in semiconductors, telecommunications, and digital convergence technology. The company employs approximately 75,000 people in 87 offices in 47 countries, and posted record US $36.9 billion in sales and US $5.05 billion in net income in 2003. Samsung Electronics is the world's leading manufacturer of advanced semiconductors, TFT-LCDs, CDMA mobile phones, monitors and VCRs.