SageTV Releases Version 2.1 PVR Software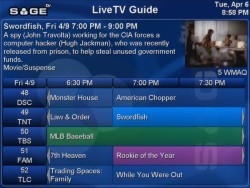 NAPERVILLE, Ill., Nov. 16 - Frey Technologies, LLC., a developer of personal video recorder (PVR) and home media center technology for the PC, has announces their version 2.1 of its SageTV personal video recorder software. It supports the WinTV PVR 150 and WinTV PVR 500 tuner cards from market-leading Hauppauge Computer Works and the Plextor Convertx 402U from Plextor Corp. It also broadens the software's search capabilities to allow users to more readily pinpoint which shows they want to record.
"From its introduction, SageTV has let even the most novice user transform a standard PC into a personal video recorder," said Dan Kardatzke, founder of Frey Technologies. "Version 2.1 adds support for some of the most superior hardware technology available today -- from a number of market-leaders, including Hauppauge Computer Works and Plextor. In addition, SageTV's new search capability aligns even more closely with the way that television viewers actually think to allow them to search and identify the programs that they want to record more readily than ever before."
SageTV gives users the most powerful PVR capabilities imaginable by allowing for the use of multiple tuner cards for simultaneous recording of an unlimited number of shows. In version 2.1, SageTV supports the ability to record multiple formats across multiple tuners (i.e. mixing MPEG-2 and MPEG-4/DivX hardware encoders within a single system). In addition, the software now supports an even broader array of tuner cards, including the Hauppauge WinTV PVR 150/500, the Plextor ConvertX TV-402U/M402U, the Provideo 358T USB, and AverMedia UltraTV PCI 500/550.
"SageTV was the first application to allow users to record multiple channels simultaneously, and this new version of the software does a lot to further enhance the user experience with additional features and capabilities as well as the ability to fully utilize the unique features of our WinTV-PVR-500 card," said Ken Plotkin, CEO of Hauppauge Computer Works. "SageTV makes transforming a PC into a personal video recorder completely simple for the consumer. With these new enhancements they now know that they can simply plug in one of our cards and automatically have excellent PVR capabilities."
Hauppauge's WinTV-PVR-150 is a 125-channel cable ready TV tuner that allows users to readily record TV shows onto a computer's hard disk. The WinTV-PVR-500 is the first TV tuner card to provide dual 125-channel, cable-ready tuners, each with a dbx-TV stereo recorder. The card also features dual high-quality MPEG2 video and audio encoders.
Plextor's The PX-TV402U is the world's first DivX Certified PVR. The PX-TV402U contains an integrated high quality TV tuner and connects to a PC via a USB connection. The unit incorporates a multi-format encoder chip which converts video to the DivX(R), MPEG-4, MPEG-2 and MPEG-1 formats as it is being recorded to the PC.
The software has also been enhanced to allow users greater flexibility when searching and recording television programs. Users can browse upcoming programs by category and record shows based on keywords (i.e. ice skating, French cooking, etc.) in addition to specifying a specific title, actor or program category. In addition, the software has been enhanced with improved file management; plug-in support for on-screen display, inputs and MediaPlayer; and revamped capture and playback systems.
The SageTV software is priced at $79.95. For more information about Frey Technologies or SageTV, visit the company's Web site at http://www.sage.tv .
About Frey Technologies
Founded by brothers Jeffrey and Dan Kardatzke in April 2002, Frey Technologies, LLC develops technologies that combine television, music and other related media into a complete, easy-to-use home-media experience controlled from an existing PC. Frey Technologies is a pioneer in the personal video recording and home media center industry for the PC. Through a convergence of the home theater and the PC, Frey offers SageTV, the most powerful media center software available for the home. SageTV for the PC is the first PVR product to give users multiple tuner support, networking and Intelligent Recording. SageTV is quickly becoming the market leader for PVR and media center technology for the PC.
About Hauppauge Digital, Inc.
Hauppauge Digital, Inc. (Nasdaq: HAUP) is a leading developer of digital video TV and data broadcast receiver products for personal computers. Through its Hauppauge Computer Works, Inc. and Hauppauge Digital Europe subsidiaries, the company designs and develops analog and digital TV receivers that allow PC users to watch television on their PC screen in a resizable window and enable the recording of TV shows to a hard disk, digital video editing, video conferencing, receiving of digital TV transmissions, and the display of digital media stored on a computer to a TV set via a home network. The company is headquartered in Hauppauge, New York, with administrative offices in New York, Singapore, Ireland, and Luxembourg and sales offices in Germany, London, Paris, the Netherlands, Sweden, Italy, Spain, Singapore and California. For more information, visit the company's Web site at http://www.hauppauge.com .