Russound Unveils SMS3-250 Digital Media Server

NEWMARKET, NH - May, 2005 - Building on the widespread success of its SMS3 Smart Media Server, Russound unveiled the SMS3-250, giving homeowners more storage capacity with a 250 gigabyte (GB) hard drive as well as options for playing digital music and displaying digital pictures almost anywhere in the home. The SMS3-250's intelligent playback and digital image display features demonstrate Russound's leadership in the rapidly emerging market for digital media-based technologies. Available immediately, the SMS3-250 has a MAP price of $3,399.
Incorporating highly intelligent software, the SMS3-250 includes a Personal Media Assistant (PMA) that acts like a virtual deejay tailoring music selection to users' tastes. It plays favorite songs more frequently and demotes songs that users choose not to listen to. The unit also allows users to organize music by theme, activity or playlist based on preferences. The SMS3-250 automatically retrieves data including track, title, artist and album art from the Internet using Gracenote and MUZE online databases. When integrated with Russound's RNET®-based systems, the SMS3-250 delivers music information to the UNO keypads. In addition, the SMS3-250 allows listeners to view song information via a TV or PC.
"Growing demand for more digital content in the home has pushed vendors to develop new products that make accessing that content fast, easy and affordable," said Andy Lewis, Russound's RNET product manager. "The SMS3 set a standard for intelligent, affordable, and intuitive media server technology. The SMS3-250 brings a new addition to the family of Russound media servers."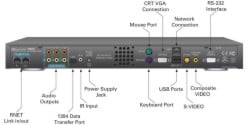 New software for the SMS3 line of media servers will give users more cover art and slide viewing options. The new software lets a user add cover art to their systems manually if it wasn't available at the time they saved the CD. Enhanced slide show viewer capabilities allow users to easily store JPEG images in a folder and create slide shows to be broadcast to any networked display in the house. Homeowners can also use the software to set the slide show to music for added entertainment. These new software features are immediately available via the media server set-up screen, which is where users will find future updates as well.
The unit's 250 GB hard drive can handle the largest music libraries - the equivalent of 4,140 hours or up to six months of music. It can also deliver up to three independent sources of music simultaneously, which makes it ideal for high-quality multiroom systems. This means three different listeners can select and play their unique music choices - whether from CDs, MP3 or Internet radio - at the same time in any area of the home the audio-video system reaches. "These features give homeowners more options for enjoying digital audio and pictures," said Lewis. "The SMS3-250 is yet another example of how Russound continues to take the lead in market innovations for converged digital multiroom audio and video systems."
About Russound
Since 1967, innovation, quality and reliability have been the pillars of the Russound product tradition. Located in Newmarket, N.H., Russound offers the products and expertise customers need to enjoy multiroom audio and video systems in the home. The company pairs powerful systems using the latest technologies with intuitive controls to give customers high-performance, easy-to-use solutions. For more information, visit the company's Web site at www.russound.com.