Russound Intros iBridge Dock for iPods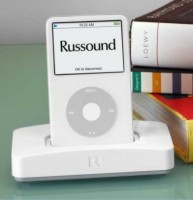 NEWMARKET, N.H. - July 10, 2006 - Russound, the #1 brand in multiroom audio, today announced its model iBridge Dock Kit BGK1 is now shipping. Available through authorized dealers and distributors, the iBridge Dock connects an iPod to Russound's multiroom audio-video systems and becomes a source for the entire household to use. Widely popular, the iPod has primarily been a solitary way to listen to music. With iBridge, sharing and enjoying music anywhere in the house is instantaneous. During use, the dock also recharges the iPod, keeping it ready for portable use. iBridge Dock and RNET A/V Decoder are available as a kit at a US MAP of $599.
"Consumers want more than a holder for their iPods. They want the same, if not more functionality, within their multiroom audio systems. With the iBridge Dock, they can have their iPod music collection available in every room of the house, select songs just like they do with their iPod, plus see metadata feedback on their keypads," said Andy Lewis, Russound Product Manager. "RNET systems with an UNO-TS2 Touchscreen add selection tools not available on an iPod, giving home-owners the power to choose their music in even more ways."
A number of distributed audio companies offer a dock made specifically for the iPod. The Russound iBridge Dock model BGD1 is a unique solution that is plug-and-play and requires no third-party control systems. Designed to be easy for the installer, all programming has been built into the iBridge, allowing integrators to reduce the time it takes to install a multiroom system. The iBridge Dock connects with industry standard CAT-5 wire enabling streamlined and efficient set up.
Within Russound's RNET multiroom audio-video systems, the iPod can be controlled from keypads and touchscreens as if the user had it in their hands. The combination of iBridge and RNET technologies transfers metadata from the controllers to the keypads and sends selection commands back to the controller. The Dock treats the iPod as a fully functional RNET Smart Source; it gives the system's keypads, touchscreens, and remotes full control of the iPod's Play, Pause, Next Song, Previous Song, Playlist Up, and Playlist Down functions. An UNO-TS2 Touchscreen also has the ability to select music on the iPod by playlist, genre, artist, album, and song title. Metadata displays on screen allowing users to "see" what they hear.
For non-RNET multiroom systems, the iBridge Dock includes an IR control feature. Compatible with Russound's CAA66 and CAS44 Controller Amplifiers and A-BUS® multiroom audio systems, users can control the iPod by remote control or IR-based keypads.
More than one iBridge Dock can be designated as a multiroom source. The RNET A/V Decoder model RAVD1, included in the iBridge Dock kit, allows remote location of the docks - up to 300 feet from the controller - for convenient placement near entrances to the home or in individual rooms throughout the house. The dock includes five well adapters to fit most iPod models.
Lewis commented on what he feels are the best aspects of adding an iPod to a Russound multiroom system. "The beauty of the iBridge Dock is that it gives music room to play. By removing the headphone's boundaries, a solitary activity is transformed into a group one that can bring people together to share and enjoy music. After all, isn't that what music is all about?"
About Russound
Since 1967, innovation, quality and reliability have been the pillars of the Russound product tradition. Located in Newmarket, N.H., Russound offers the products and expertise customers need to enjoy multiroom audio and video systems in the home. The company pairs powerful systems using the latest technologies with intuitive controls to give customers high-performance, easy-to-use solutions. For more information, visit the company's Web site at www.russound.com.
About RNET
Designed from the ground up by Russound Engineers, RNET technology delivers Sound Intelligence to multiroom audio. RNET provides intelligent audio features; metadata delivered to keypads, pre-programmed components and fully tested products. The result is unsurpassed performance, faster installation and exceptional end-user satisfaction. From controllers, keypads and touchscreens to source equipment, RNET offers everything you need.