Russound Introduces the SaphIR K2 Keypad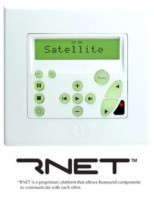 NEWMARKET, N.H., Aug. 24, 2005 - Russound® today announced the SaphIR K2, a new in-wall, intuitive, infrared keypad that extends home theater systems' potential, boosting installers' profits while introducing customers to the benefits of distributed audio and video. The SaphIR K2 is currently available at $379 US MAP.
The keypad installs quickly and easily and can control up to eight source components, including the second zone outputs integrated into most home theater receivers. Featuring an award-winning design and 12-character LCD panel, the SaphIR K2 displays source names, command confirmation and programming menus for simply controlling a virtually unlimited list of today's most popular consumer electronics.
The SaphIR K2 is customizable to suit virtually any audio-video application. It contains an extensive library of IR codes to select discs, tracks, channels, volume, and other settings for most audio and video components. Able to learn IR commands for components, it includes a powerful macro feature for advanced applications such as lowering a screen and dimming the lights in a home theater.
Demand for home theater systems has skyrocketed with new DVD and surround sound capabilities and the cost of high-definition and LCD TVs stabilizing. Installers deploying these systems can now guide customers toward distributed audio and video technology with the SaphIR K2, which provides affordable, in-wall and remote control for a second zone output in home theater and stereo receivers. For example, someone in the kitchen can use the keypad to scan radio stations or listen to a CD via the same receiver that another person is using to watch a DVD in surround sound in the den.
The SaphIR K2's other key features include:
a cloning option that allows installers to save hours of installation by copying programming from one keypad to the next;
EZpro software, a free option that assists installers through correct programming;
an intuitive interface with 12 character LCD panel;
volume control, transport and numeric controls and dual layer function keys;
two pushbutton favorite settings for quick and easy selection to your favorite music; and
an extensive library of built-in IR codes to expedite the programming for most audio and video components.
"The SaphIR K2 lets homeowners maximize their investments in home theater systems," said Bill Soggu, product manager at Russound. "It also provides installers a new entry point for educating customers about the advantages of multiroom audio and video and ultimately increasing revenues."
About Russound
Since 1967, innovation, quality and reliability have been the pillars of the Russound product tradition. Located in Newmarket, N.H., Russound offers the products and expertise customers need to enjoy multiroom audio and video systems in the home. The company pairs powerful systems using the latest technologies with intuitive controls to give customers high-performance, easy-to-use solutions. For more information, visit the company's Web site at www.russound.com .