Runco Vistage Series Custom 3D LCD TVs Announced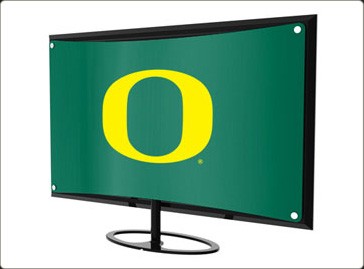 Runco Vistage Series
Runco has announced the addition of the Vistage Series to its flat panel display offerings. The ultra-thin Vistage displays - currently comprised of the V-50HD, V-58HD and V-63HD - combine elegance, beauty and unparalleled customization with the stellar video performance that is synonymous with the Runco brand. This line of 3D-ready flat panel displays will offer a stylish flat panel solution that can be personalized to reflect the style and passion of its homeowner.
Setting Runco Vistage displays apart from other thin panel TV's, the entire front of each display is comprised of solid glass, creating a better viewing performance when the display is on and a more uniform finish when it is off. Beyond its sheer beauty, the glass front improves optical performance of the flat panel, because there are no surface uniformity issues common to the acrylic or plastic surfaces used on most televisions. The Vistage Series also utilizes an Emissive Cell Structure that delivers exceptional brightness and viewing angles. Using a proprietary algorithm each sub-pixel is individually-modulated to turn on or off based on the content being played, which creates exceptional contrast and black levels previously unachieved in the industry. The Emissive Cell Structure performs best in light-controlled environments and offers amazing black levels and dark-content performance. Because the light sources turn off for black content and because so much content is black, the Runco Vistage Series also offers incredible operating efficiency.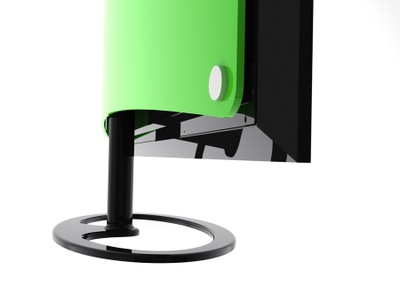 Gorgeous and very sleek, the Runco Vistage Series displays measure 1.7 inches thin.  The unique halo-shaped table stand offers a simple slim tube supported by a modest oval that sits on top of any flat surface that completely conceals all cables.
Unlike mass market flat panels, Runco's Vistage Series will offer optional rear-panel, with brilliant designs that can be created to match even the most elaborate home's décor. Made from a rigid and sturdy substrate, the optional customizable veil attaches t o the rear of the display and forms a subtle convex curvature design. Each rear-panel veil can be customized with Runco's FinishPalette™ options to create a one-of-a-kind look that gives the flat panel the appearance of artwork or a sculpture that is clearly visible from multiple vantage points. As part of the Design by Runco™ initiative, FinishPalette provides Vistage owners a unique level of personalization and customization that reflects their own individual styles and decors. Vistage FinishPalette options include:
Metals

Woods

Fabrics

Custom Hand-Painted Murals

Runco ColourPalette and FinishPalette Signature Colors

NCAA Logos

Artist Series graphics

Leather

Custom Hand-Crafted Sculpture

Going one step further in creating the ultimate aesthetic, Runco's Vistage Series' fanless design has no glaring or unsightly vent patterns on the back to distract from the beauty of the display.
"Vistage is a whole new cate gory of displays in the home. We have never taken a "one-size-fits-all" approach to our displays because our strategy is to provide incomparable visual experiences through a synthesis of technology, design, customization, and service.  The Runco Vistage Series exemplifies this strategy, giving our customers a flat panel solution that provides both an incredible display image, as well as an unexpected and one-of-a-kind display that is a statement piece in the home."
- Jennifer Davis, vice president of marketing for Runco
The Vistage Series will ship with Runco's new DHD-LS, which is an ultra-slim (measuring just more than 1 inch tall) video processor and scaler. The Runco DHD-LS allows connection to a myriad of multiple sources, and its elegant desig n includes an all-glass front that complements the sleek design of the Vistage Series. The DHD-LS includes Runco's latest Vivix™ processing for exceptional scaling and analog-to-digital signal conversion. It also allows single-wire connectivity to the display and enables individual calibration and control.
The most compelling 3D experiences are truly immersive, which is why Runco highly recommends front projection for 3D in the home.  However, for those customers looking for 3D support for their flat panel displays, Runco will be offering Active 3D support on its Vistage line of flat panel displays utilizing an optional 3Dimension™ processor, emitter, and glasses kit uniquely designed for this product line (available early 2011), which is completely compatible with the V-50HD, V-58HD, and V-63HD.
The Vistage Series V-50HD, V-58HD and V-63HD will have MSRPs of $5,995, $7,995, $9,495 respectively and will be available December 2010.  Runco's Vistage flat panels are available exclusively through the best dealers in residential A/V - the Runco authorized dealer network. For more information about the Vistage series, the FinishPalette catalog, Runco or to find a local dealer in your area, please visit www.Runco.com.
About Runco
Founded in 1987 and acquired by Planar Systems, Inc. (NASDAQ: PLNR) in 2007, Runco is a market leader in state-of-the-art projection systems, flat-panel displays, video processors, display walls and other components for the custom consumer market. Runco's display innovations have won numerous awards and citations from the world press. Runco continues to be a pioneer in the custom video display market.