Runco Outdoor WP-42HD LCD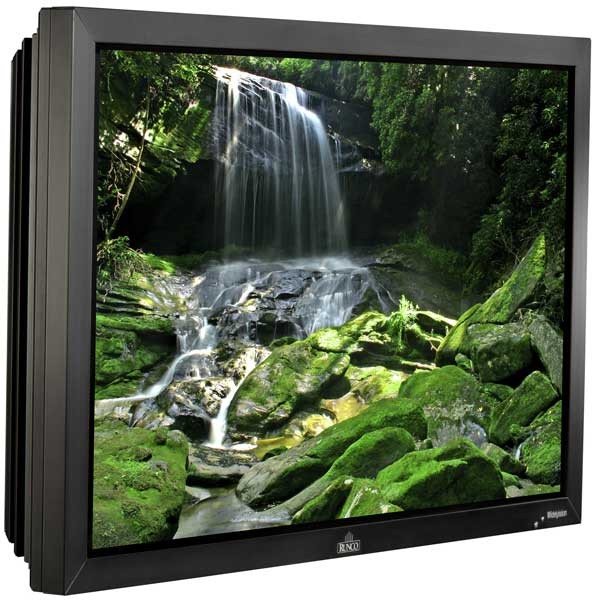 Runco Outdoor LCD display
Beaverton, OR – October 23, 2007 - Planar Systems, Inc. (NASDAQ:PLNR), a worldwide leader in specialty display systems, today announced the first flat-panel LCD display designed specifically for outdoor living, under its Runco custom home theater brand. The debut of the new Runco Climate Portfolio and its WP-42HD weatherproof display represents the marriage of Runco's luxury video heritage and Planar's history of ruggedized, reliable display technology, bringing stellar video quality and performance to the first luxury display series intended for the outdoors.
"The Runco WP-42HD is the first product that illustrates the synergy between Planar's engineering and display history and Runco's dedication to superior video," said Scott Hix, vice president and general manager, Planar Systems Inc. Home Theater Business Unit. "From the beginning we said that Runco and its dealers would benefit from Planar Systems' unique capabilities in specialty display engineering. Runco's Climate Portfolio affords its dealers a competitive edge and accelerates Planar Systems' vision of becoming the worldwide leader in specialty video displays, including the outdoor display category."
A 2006 study performed by Quixel Research1, profiling the viability of the outdoor display landscape in the U.S., provided compelling analysis that the outdoor display segment is on track to quadruple between 2007 and 2009. Quixel's most recent study found that significant outdoor living spaces, as well as complementing amenities, have become commonplace in the planning processes of luxury custom home builders, designers, architects and CEDIA professionals.
"Runco's success with performance video, combined with Planar's understanding of ruggedized, weatherproof outdoor displays, is a win-win for luxury integrators and their customers. The combination of talent makes Runco perfectly poised to be a leader in the exploding outdoor market," said Tamryn Pratt, Quixel Research.
Runco's 42-inch weatherproof WP-42HD utilizes advanced LCD technology and glass with special element-proof bonding to deliver a high-definition widescreen flat-panel monitor ready for the elements. Featuring a 1366 x 768 native resolution, combined with Runco's exclusive Vivix® internal video processing for outstanding imagery, artifact-free scaling and pristine reproduction of both native film and native video formats (480p, 720p, 1080i), the WP-42HD offers exceptional video quality, features, flexibility and connectivity to achieve the ultimate custom outdoor viewing experience.
Engineered for maximum durability, the WP-42HD's weatherproof enclosure ensures protection from adverse environmental conditions including temperature, exposure to moisture, dust, oils and intermittent direct water spray. The custom aluminum cabinet is sealed to ensure protection from the elements and features a specially-designed internal ventilation system to provide adequate cooling. The WP-42HD surpasses International Electrotechnical Commission (IEC) Ingress Protection IP56 weatherproof standards, allowing integrators to "install it and leave it" without worry.
Runco has equipped its WP-42HD with a wide array of custom installation-friendly features. Its wide viewing angle (178 degrees) maximizes viewing enjoyment from widely dispersed seating positions. An internal setting allows for optimal operation in colder temperatures (-4°F in Winter Mode). Also included are an RS-232 automation interface with discrete on/off, input selection and aspect ratio control. Ample inputs include digital DVI with HDCP, as well as a multimedia RGB/computer input for gaming, internet surfing and other computer activities.
Installation options are limited only by the installer's imagination. Runco's Climate Portfolio™ WP-42HD delivers rich LCD imagery anywhere HD flat panel video performance is desired. Runco's network of certified custom professionals provides industry-leading innovative solutions to create the perfect luxury outdoor environment.
With the same elegant look and styling that distinguishes all Runco flat panel displays, the WP-42HD features a high-gloss black bezel incorporated into a stylish enclosure design. The Runco Climate Portfolio WP-42HD will be available in November 2007 exclusively through Runco dealers. MSRP is $8,995 USD.
About Planar
Planar Systems, Inc (NASDAQ:PLNR) is a global leader of specialty display technology providing hardware and software solutions for the world's most demanding environments. Hospitals, space and military programs, utility and transportation hubs, shopping centers, banks, government agencies, businesses, and home theater enthusiasts all depend on Planar to provide superior performance when image experience is of the highest importance. Founded in 1983, Planar is headquartered in Oregon, USA, with offices, manufacturing partners, and customers worldwide. For more information, visit www.planar.com.
paulf7509 posts on October 29, 2007 10:38
Well that is a really high price. You have to be a real fanatic to go for that!!
BMXTRIX posts on October 25, 2007 15:39
majorloser, post: 323212
Don't all Runcos come with a service tech in the box?
If not, they should…
and they should all be named 'Jack'.
majorloser posts on October 25, 2007 14:34
Don't all Runcos come with a service tech in the box?
BMXTRIX posts on October 25, 2007 11:00
3 years ago? Dang! That's longer than I've seen any Runco last without needing service at least once.
stratman posts on October 25, 2007 08:57
Wow! A $9000.00 42"LCD, what'll they think of next! My brother in law stuck an old left over Zenith 42" plasma under his covered terrace, humidity galore, that was three years ago and it's still working as good as the day it was installed outdoors and it didn't cost $3,000.00 So unless you wan't to install this in a fishtank……….
Post Reply