Runco LightStyle LS-HB Projector Preview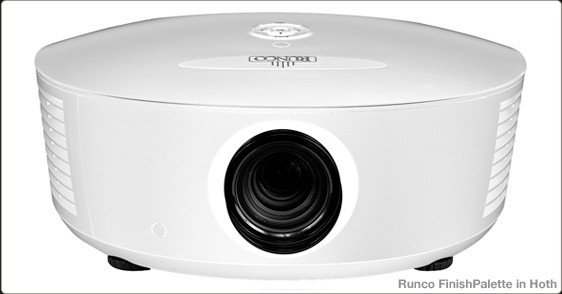 Runco LightStyle LS-HB Projector
Runco announced an addition to the company's LightStyle Series projectors, the LightStyle LS-HB. This high-bright projector brings Runco into a whole new category, as this new product excels outside of the dedicated home theater, where environmental factors such as lighting are not easily controlled. The LS-HB's price point offers customers an affordable big screen video experience in virtually any room of the house.
Opening up new projector possibilities in the home, Runco's LightStyle LS-HB is a single-chip 1080p projector that has been designed specifically to address the issue of installing projection systems in living rooms, media rooms, and entertainment spaces in the home; spaces Runco calls "Flex-Theaters" where big screen entertainment is only a portion of the room's purpose. In Flex-Theaters, environmental factors such as sunlight and shadows can challenge even the highest-performance front projection systems. The LS-HB joins Runco's LightStyle 3-chip DLP solutions - the LS-10i, the LS-10d, and the LS-7 - to deliver acceptable video performance in these bright environments where clients wish to entertain or spend time with their families enjoying movies on Blu-ray or DVD, watching television and cable programming or streaming video, browsing the internet, or utilizing computer applications to view their digital photography or home movies.
Features
Stylish design with Runco performance

1080p, 16x9 native resolution

Runco's legendary SuperOnyx technology with ConstantContrast and ViVix video processing

Elegant, sleek chassis design with FinishPalette customization

Multiple lens options

"With the LS-HB, we are able to provide our customers with a solution that they may have believed impossible: a vivid, big-screen entertainment experience in their living room. The new LS-HB projector joins our stand-out line-up of LightStyle platforms to create real possibilities for front projectio n in spaces where the only solution previously available might have been a large flat panel television. By providing a solution for this new Flex-Theater space, Runco continues to pioneer home solutions, and redefines entertainment possibilities in the home."
- Jennifer Davis, vice president of marketing for Runco
Runco's LightStyle Series projectors are a testament to Runco's craftsmanship and video quality, and the addition of the LS-HB is no exception. The LS-HB boasts flawless 1080p full high-definition imagery, practical integration features that allow the projector to be controlled by the leading home automation systems, and a sophisticated industrial design that has won critical acclaim for its ability to complement any room's decor.
The LightStyle Series combines state-of-the-art DLP-based SuperOnyx technology and delivers a very bright picture that measures 2,700lumens in high-brightness mode. It incorporates the ISF (Imaging Science Foundation) calibration suite for optimal performance, including ISF Day and ISF Night presets, further enhancing the flexibility of installation and use. The LS-HB features Runco's legendary internal video processing for exceptional scaling and analog-to-digital signal conversion.
For enhanced customization an d aesthetic appeal, the LS-HB can be customized with Runco's FinishPalette design options. The LS-HB is available in a popular matte white finish to camouflage ceiling installations. Beyond white, Runco's FinishPalette enables full-color, large-format projector design options, including sports logos, a gallery of artist impressions and the option to custom print client-supplied artwork.
The LS-HB projectors are available with Runco's new CineGlide lens solution that enables a motorized, mechanical 2.35:1 anamorphic lens to move in front of the standard lens for perfect CinemaScope reproduction. Runco CineGlide enables the viewer to switch from 16:9 content to 2.35:1 content , without black bars on the top or side of the image, with the touch of a button.
The LightStyle LS-HB will be available in February 2011 with an MSRP of $7,995. The LS-HB with CineGlide will be available with an MSRP of $15,995. Runco's projectors are available exclusively through the best dealers in residential A/V - the Runco authorized dealer network. For more information about the LightStyle Series, Runco or to find a local dealer in your area, please visit www.Runco.com.