RTI Ships vIRsa Mouse IR Emitter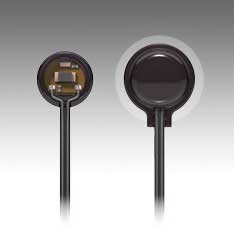 RTI vIRsa Mouse IR Emitter
Remote Technologies Incorporated (RTI) today announced that it is now shipping its vIRsa Mouse IR emitter. Built with the professional integrator in mind, the versatile device features a sleek, symmetrical design while providing a host of features to ensure smooth, reliable installations.
The low-profile vIRsa is unobtrusive and adapts to any installation environment with a flexible film adhesive that conforms to curved surfaces. For fast troubleshooting, a separate holder remains attached, allowing easy removal and replacement of the emitter. A blue LED flasher offers increased visibility but may be hidden during normal operation.
For high reliability, a translucent PCB improves the integrity of electrical connections while a built-in resistor protects against voltage overdrive and precision molding ensures consistent quality. The device's 15-foot cable reaches the entire equipment rack, and an integrated cable-management strap reduces clutter.
"Our vIRsa Mouse is the ultimate IR emitter. Engineered like no other, it combines flexibility, convenience, efficiency, and unmatched reliability for integrators, all in one device," said Pete Baker, vice president of sales and marketing for RTI. "From its flexible film adhesive to its built-in resistor, every aspect of the vIRsa is designed to simplify installations in the field."
The vIRsa Mouse is available now at an MSRP of $15.
About Remote Technologies Incorporated (RTI)
Remote Technologies Incorporated (RTI), headquartered in Shakopee, Minn., is a leading manufacturer of innovative, sophisticated, and user-friendly control devices for professionally installed electronic systems. RTI's wide array of award-winning control solutions — including handheld and in-wall universal system controllers, central processors, and accessories, programmed via RTI's Integration Designer® software — are marketed exclusively through a worldwide network of professional integrators. Additional information on RTI and its innovative control solutions can be found at www.rticorp.com.