Rock Band Storage Ottoman Announced by LevelUp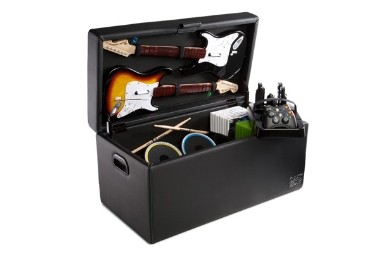 LevelUp Rock Band Ottomon
LevelUp, who makes officially licensed storage solutions for Wii, Xbox 360, DS, PlayStation and Rock Band, is stoked to announce the availability of the Rock Band Ottoman. This is basically a branded version of LevelUp's existing Ottomon. The company figures that being a rock star requires a lot of loose gear and accessories (or as we call them, "controllers"), which can clutter the home and eventually make band practice less fun.  To solve the problem, LevelUp constructed this ottoman out of solid wood and sleek leather-like exterior, durable enough to withstand the most destructive performer. 
The Rock Band Ottoman features fitted drum stick loops, fitted side accessory pockets, and a Velcro guitar loops to keep your gear secure. Users can comfortably fit two axes, one drum set, one microphone, and one drumstick set - and NO, not the real kind. There's also a safety hinge lid and side handles for easy lifting in case have a Rock Band "gig" at your friend's house, as well decorative lid stitching because every band needs a little flair. 
"There are a lot of gamers who want to play like Green Day, but not necessarily live like them. This product grants players the ability to shred their guitars, not their living rooms." 
- Jason Lemelson, President of LevelUp
JCPenney.com and Kohls.com are currently selling the "Skull and Snakes" version online for $179.00 while Costco stores are carrying the "Back in Black" version for $89.99.  Compatible storage trays for games/DVDs and other gaming gear are available separately at LevelUp's array of prestigious retailers.  For more information, please visit www.levelupgear.com.
About LevelUp
LevelUp, a division of Slam Brands Inc., makes the only gaming storage officially licensed for Nintendo Wii, Nintendo DS, Sony PlayStation and Rock Band, as well as Xbox 360 compatible products.  With the many gaming consoles and accessories that are available in the market, gamers use LevelUp towers, ottomans, trays and wall-mounts to help organize and store gaming accessories smartly and with style.
Recent Forum Posts:
dTor posts on December 06, 2010 12:00
Pretty cool. I doubt it would hold my drumset though. lol
xyvyx posts on November 17, 2010 00:55
spotted these for sale @ Costco the other day, looked reasonably well constructed…. gonna go back and get one!
Post Reply