Rock Band 3 Keytar Keyboard Video Trailer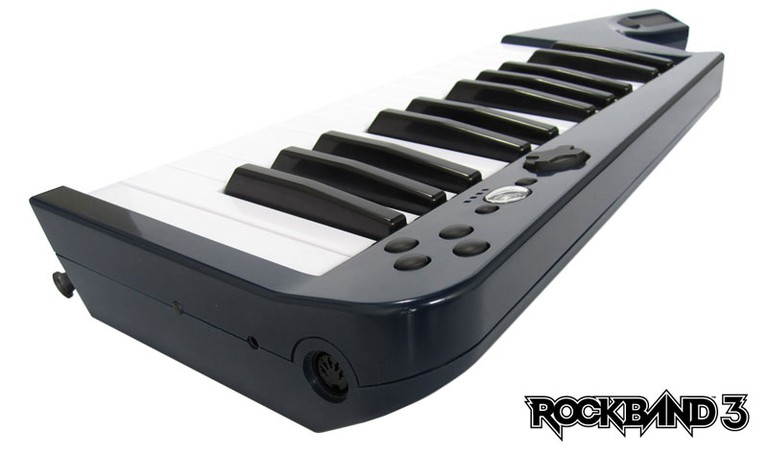 Rock Band 3 Keytar Keyboard Controller
We're fans of Rock Band, but we couldn't figure out how they were going to integrate a keyboard controller into the new Rock Band 3 rhythm game. Turns out, they used their heads and pulled off a pretty nice controller that allows for entry level play as well as advanced note-for-note keyboard control. The preview trailer shows a lot of songs that have a ton of keyboard action, though some tracks are definitely using backing keys, rather than having them as a primary instrument. 
At this point we've gone from skeptical, to thinking that this might actually be fun. The other thing we like, in addition to the detail of the Rock Band Keyboard Controller, is the level of playability for professional musicians offered by the new Rock Band 3 instruments. This is called "Rock Band Pro". These controllers are more or less real instruments designed to grow you in your knowledge of playing so that you can potentially learn the instrument, instead of being simply a great air guitarist.
Rock Band Pro will function as a way for amateurs to step up and learn real chords and skills that could translate to real instruments. As a prime example, the keyboard controller for Rock Band 3 is a fully functional 25-key MIDI keyboard. The notes you play (in pro mode) that filter down the screen would be the actual notes you'd play if you were to use a real piano and play the song. Pro mode on the guitar replaces the five-colors with a series of numbers that float down the fretboard across the six strings. To use this mode you need to buy one of the new controllers that is more or less a six-string Fender Squier Stratocaster. There is also a more gamey controller that includes buttons across each fret. The game will apparently include single note plucks to power chords, bar chords, tapping and slides.