Roadmaster Ships FM Modulators for MP3 Music via Car Radios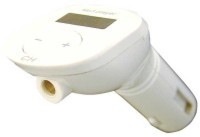 Eatontown, NJ - March 29, 2006 - Roadmaster USA Corp, a leading automotive company providing mobile & home audio equipment, auto accessories, and car care products, announced today that it has begun shipping the Roadmaster VRFM series of FM Modulators that plug into your car's cigarette lighter to play your favorite MP3, WMA, iPod, CD, or MP3 player music through your car's radio. The Roadmaster VRFM FM modulators convert audio signals into an FM signal, which is then transmitted over an unused FM frequency or station selected by the listener. The VRFM can transmit this high-quality music from an SD card, USB or audio input device, including MP3 players, USB memory key, and CD and DVD players. It can even play any MP3 and WMA music saved on an SD Card or USB Memory.
High-Quality Stereo Sound
Roadmaster FM Modulators make it easy to listen to all your tunes saved on your computer, laptop, or MP3 Player in your car with excellent stereo sound at a low price. Just save your MP3 collection on a USB memory key or SD card and plug it into the Roadmaster FM Modulator; or simply plug your MP3 player or other device directly into the FM Modulator for instant music that you can listen to for hours.
VRFM6 - Low-Cost Entry-Level FM Modulator
Starting at only $19.99, the VRFM6 (Roadmaster's entry-level model), connects to all audio devices, including MP3 players, CDs and DVD players, through its audio input to wirelessly broadcast high-quality music through the car radio. The LED displays 15 FM frequencies, from which you can select the appropriate radio channel frequency to play your music. The VRFM6 uses 12 volt wire-free transmission and a 3.5mm stereo input. The channel selector features an up and down key.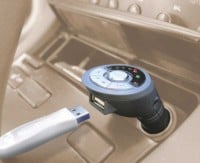 VRFM7 - with USB Slot and MP3 Decoder
The next product in the line, the VRFM7, is priced at $29.99 and includes an MP3 decoder, USB slot, Aux in, and frequency push button, as well as all the standard features. The Dual-Function Buttons offer selections for Play, Stop, Volume, and Track Change.
The VRFM7W is Plug 'N Play ready for your MP3s and WMA music, which you can play from a USB memory drive.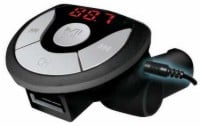 VRFM8 - with Versatile Ratchet Neck & Shuffle/Random Play Features
The Roadmaster $34.99 VRFM8 includes all previous FM Modulator features, plus Dual Function Buttons for Shuffle/Random, Last Song Played, Last FM Channel, Play, Stop, Volume, and Track Change Controls. The Ratchet Neck style provides more flexibility with 6 versatile positions that you will find makes for ease of use in any vehicle.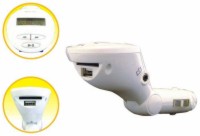 VRFM9 - Top of the Line with USB, SD Card Slots and Song Name Read-outs
The top of the line Roadmaster FM Modulator, the VRFM9 (priced at $69.99), includes a read-out of the name of each song, SD and USB slots, Dual Function buttons for ShuffleRandom, Last Song Played, Last FM Channel, Play, Stop, Volume, and Track Selection. It automatically plays MP3s and WMAs from USB memory drives, as well as SD cards. In addition to song titles, the easy-to-read LCD also shows pre-set FM stations.
Priced between $19.99 - $69.99, the VRFM FM Modulators are available immediately through most major superstores, retailers, and car dealerships. For more information, see the website: www.roadmasterusa.com .
About Roadmaster
Roadmaster USA Corp. is a leading after-market manufacturer of mobile & home audio equipment, automobile accessories and car care products. Roadmaster is one of the largest importers of automotive speakers in the U.S. and is North America's market leader in 12 volt and DC powered cooling and warming products.
Founded in 1996, Roadmaster USA distributes to mass market, automotive, and home improvement chains, warehouse clubs, and sporting goods chains. Its product line includes affordable, high quality 12V accessories, portable electronics, home electronics, lighting accessories, car care products, and many other products under a variety of brand names, including Thermos, Roadmaster and VR3. See www.roadmasterusa.com for more info.