Rives Audio, RPG, Talon, Harbeth, Von Schweikert at CES/T.H.E.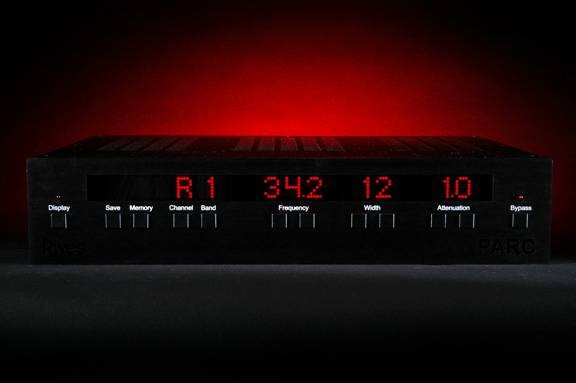 Jessup , MD - Only one year after the Rives Audio debut at CES, Rives Audio teams up with 3 unique and top level speaker companies to display at both CES and T.H.E. Show. Rives Audio will demonstrate their versatility with all three companies and in no less than 5 total rooms.
This year Rives will be demonstrating the P ARC plus, with Talon Audio in Ballroom 1 of the St. Tropez hotel. Talon and Rives will put on a multi-channel both audio and video presentation. The PARC plus is specifically designed to function as a 6 channel parametric to give the same level of performance found in the award winning PARC to multi-channel. The PARC plus adds on to anyone's existing PARC and gives the user 4 more channels of operation. According to Richard Bird , president of Rives Audio, " We designed the PARC from the ground up to accept a PARC plus. We know the importance of mulit-channel and elected to embrace it from the very beginning. " The PARC plus along with the treatment from RPG will be extraordinary. Along with this room Rives will be demonstrating the PARC in 2 other Talon Audio rooms at the Alexis Park Hotel.
At the other end of the spectrum Rives will be working with Harbeth, in room 1104 at the San Tropez. Their speakers are not as well known in this country, but they have received huge acclaim in the UK . Using the P ARC and acoustical treatment from RPG, we will show how the Rives system performs with typical consumer components, making a reasonably priced system, sound unreasonably good.
Lastly, and possibly most impressively will be the over the top demonstration in the Von Schweikert Audio Room. At the Chateau 3 Ballroom St. Tropez, the VR-11s will be unveiled as the new $100k reference speaker. Bi-amped by VAC and front end by Oracle, this should not be missed. Rives Audio will use the PARC and have designed the acoustic application, again using RPG. Rives Audio's senior acoustical engineer, Chris Huston, will be recording Misty River live, for playback on this awesome system. There's nothing like comparing the live to reproduced music in the same venue. As Chris Huston stated: " If you can accomplish that convincingly, then what more could you ask for? "
Pictured above is the PARC (Two Channel) and the PARC Plus (Six Channel)
Parametric Room Correction.
For More Information, Visit Rives Audio
Contact: Richard Bird / Anne Schulte
Company: Rives Audio , Inc.
800-959-6553 or [email protected]