Rives Audio Acquires Talon Loudspeakers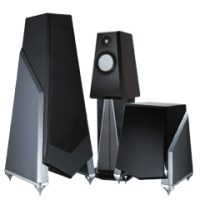 Coralville, IA - August 7th, 2006 - The assets of Talon Loudspeakers (formerly Talon Audio Technologies) were purchased by Rives Audio in a deal involving cash and common stock of Rives Audio. Richard Rives Bird, president of Rives Audio, described the acquisition: "Our goal for Rives Audio has always been to expand, both internally and through strategic acquisitions. Talon makes one of the finest loudspeakers which are engineered to standards well beyond most companies in the high end market. Both the quality and the value of the Talon loudspeakers are in line with Rives Audio."
Rives Audio's initial business is designing listening rooms and home theaters worldwide. Their business has expanded to doing approximately 40 designs a month, more than most groups do in a year.. When Bird was asked how Talon would fit into Rives Audio's marketing and distribution, he replied: "Talon will be a division within Rives Audio. There may be overlap between Rives Audio dealers and Talon dealers, but the two divisions will essentially remain separate."
Michael Farnsworth, former president and part owner of Talon, will remain on board as a consultant for engineering only. Mr. Farnsworth commented: "I've always had a passion for building the best loudspeaker possible. Unfortunately, due to other commitments in my life, I can not give Talon the time it deserves to run the business. Thus we chose to sell the company. I've known Richard Bird for a number of years, and have great respect for him and his company. I'm extremely pleased to have a company such as Rives Audio take Talon to the next level."
Manufacturing and engineering for the Talon loudspeakers will remain in Murray, UT. Bird explained: "There is absolutely no reason to disrupt engineering and manufacturing of the Talon product. Everything is set up beautifully in UT and it is my intention to keep it there. Furthermore, I personally believe it is important to manufacture whatever we possibly can in the U.S. rather than importing."
When asked if the name Talon and Bird's last name were coincidental, he replied: "Pure coincidence… but a nice one, don't you think?"
For more information visit www.talonspeakers.com .