Rio Carbon Limited Edition - 500 and Counting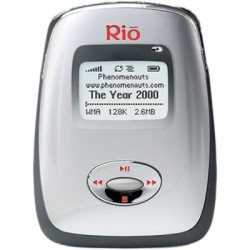 SANTA CLARA, Calif., Aug. 31 - Rio® is marking the availability of one of its newest and hottest players, the Rio Carbon 5GB(1) MP3 player, with 500 limited edition units. These players feature 20 free downloads and three free months from Napster®(2), a customized laser engraved stainless-steel back, along with a collectors' edition external package. The highly anticipated Rio Carbon 5GB(1) will soon be hitting store shelves, however, consumers can be one of the first to own a Limited Edition Rio Carbon beginning today by going to www.rioaudio.com .
Sporting an ultra-thin and tapered design, and with 25 percent more memory than iPod® mini, this tiny MP3 player, about the size of a business card, will slide into any pocket virtually unnoticeable. The Rio Carbon is capable of holding up to 80 hours of MP3 (160 hours WMA) music(3), and with up to 20 hours of battery life on a single charge, music lovers need not worry about running out of juice. Supporting USB 2.0 and a host of file formats; users can download music efficiently and easily from most of their favorite online music sites. The Rio Carbon also includes voice recording and provides seamless integration and support of both the PC and Mac platforms.
"As the first company with a 5GB(1) player on the market, we wanted to offer our devout customers something they can treasure for a long time," said Dan Torres, vice president of Rio Audio. "We feel that the 5GB(1) capacity will hit a sweet spot with our customers and the initial response from the media and our retailers to the Rio Carbon has been phenomenal."
Availability
The Limited Edition Rio Carbon MP3 players is expected be available beginning August 30 while supplies last. Suggested manufacturer's retail price is $249.
About Rio Audio
Rio Audio, a D & M Holdings company, pioneered portable digital audio technology in 1998, with the launch of the Rio 300. Since then, Rio Audio has become a leading brand of portable MP3 players by developing a host of award- winning portables that let music lovers take their music with them wherever they go. For more information regarding Rio, or to purchase a Rio digital audio player, please visit www.rioaudio.com.
About D & M Holdings Inc.
D & M Holdings Inc. (TSE II: 6735) is based in Tokyo and owns the Denon, Marantz, McIntosh Laboratory, D & M Professional, ReplayTV®, Rio® and Escient® brands. Denon, Marantz, McIntosh and D & M Professional are global industry leaders in the specialist home theater, audio/video consumer electronics or professional audio markets, with a strong and long-standing heritage of manufacturing and marketing high-performance audio and video components. The ReplayTV, Rio and Escient brands represent award-winning technologies in digital home entertainment. Additional information is available at www.dm-holdings.com .
DISCLAIMER
Statements in this release that are not statements of historical fact are forward looking statements regarding future events or the future financial performance of the company. We wish to caution you that such statements are just predictions and that actual events or results may differ materially. Forward looking statements involve a number of risks and uncertainties surrounding competitive and industry conditions, product changes or delays, market acceptance for the company's products, risks of litigation, technological changes, developing industry standards and other factors related to the company's businesses.
Rio, ReplayTV and Escient are registered trademarks of Digital Networks North America, Inc. Napster is a registered trademark of Napster, LLC. iPod is a registered trademark of Apple Computer, Inc. All other products and brand names as they appear in this release are trademarks of their respective holders.