Rio Carbon and Rio Forge MP3 Players Introduced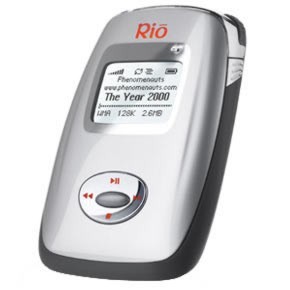 SANTA CLARA, Calif., Aug. 11 - Maintaining its tradition of creating new and innovative MP3 players, Rio® today announced four new additions to its award-winning MP3 lineup -- the Rio Carbon 5GB(1) ($249), Rio Forge 512MB ($199), Rio Forge 256MB ($169), and Rio Forge 128MB ($139).
The four new players, all with tested battery lives of up to 20 plus hours, are designed with a combination of stylish metallic sheens, bright LED backlight displays and refined ergonomic designs that provide a distinctive look and feel to fit a variety of lifestyles. This next generation of Rio MP3 players all feature a new touch sensitive directional pad for simple and intuitive navigation and playback control.
"In daily conversations with our customers, battery life is often mentioned as a key feature they appreciate about Rio players. We our proud to say that our new players, Rio Carbon and Rio Forge have been engineered to deliver up to 20 hours or more on a single charge or AAA battery," said Hugh Cooney, president of Rio Audio. "This keeps our customers focused on listening enjoyment rather than spending time recharging their device."
Rio Carbon 5GB
Sporting an ultra-thin and tapered design, and with 20 percent more memory than the iPod mini, this tiny MP3 player, about the size of a business card, will slide into any pocket virtually unnoticeable. The Rio Carbon is capable of holding up to 80 hours of MP3 (160 hours WMA) music(2), and with up to 20 hours of battery life on a single charge, music lovers need not worry about running out of juice. Supporting USB 2.0 and a host of file formats; users can download music efficiently and easily from most of their favorite online music sites. The Rio Carbon also includes voice recording and provides seamless integration and support of both the PC and Mac platforms.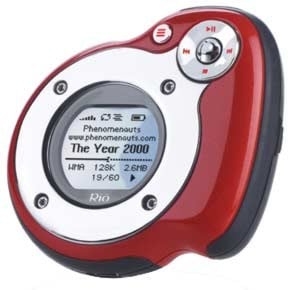 Rio Forge 512MB, 256MB, 128MB
The Rio Forge is a newly designed sport MP3 player that builds on the company's most popular selling flash-based player, the Rio Cali. The Rio Forge was engineered with the athlete in mind as its unique design incorporates the ruggedness and durability required for indoor and outdoor activities. With features like a large, easy-to-read screen, increased onboard memory (up to 512MB), expandable memory with a SD/MMC memory card, sport armband and industry-leading battery life of up to 20 hours with a single AAA battery, this player can accommodate an easy stroll in the park, or an extreme sporting adventure. The Rio Forge supports USB 2.0 for up to 40 times faster downloading, and includes a variety of features such as FM tuner, stopwatch and FM recording on the 256MB and 512MB models. The Rio Forge also supports both PC and Mac platforms.
Availability and Pricing
The Rio Carbon and Rio Forge MP3 players are expected to begin shipping in August. The products will be available through a variety of retail outlets in both the U.S. and Europe, including www.rioaudio.com .
 Estimated manufacturer's suggested retail prices are as follows: 
 Rio Carbon 5GB $249 
 Rio Forge 512MB $199 
 Rio Forge 256MB $169 
 Rio Forge 128MB $139 


 



About Rio Audio
Rio Audio, a D & M Holdings company, pioneered portable digital audio technology in 1998, with the launch of the Rio 300. Since then, Rio Audio has become a leading brand of portable MP3 players by developing a host of award- winning portables that let music lovers take their music with them wherever they go. For more information regarding Rio, or to purchase a Rio digital audio player, please visit www.rioaudio.com.
About D & M Holdings Inc.
D & M Holdings Inc. (TSE II: 6735) is based in Tokyo and owns the Denon, Marantz, McIntosh Laboratory, D & M Professional, ReplayTV®, Rio® and Escient® brands. Denon, Marantz, McIntosh and D & M Professional are global industry leaders in the specialist home theater, audio/video consumer electronics or professional audio markets, with a strong and long-standing heritage of manufacturing and marketing high-performance audio and video components. The ReplayTV, Rio and Escient brands represent award-winning technologies in digital home entertainment. Additional information is available at www.dm-holdings.com .
DISCLAIMER
Statements in this release that are not statements of historical fact may include forward looking statements regarding future events or the future financial performance of the company. We wish to caution you that such statements are just predictions and that actual events or results may differ materially. Forward looking statements involve a number of risks and uncertainties surrounding competitive and industry conditions, product changes or delays, market acceptance for the company's products, risks of litigation, technological changes, developing industry standards and other factors related to the company's businesses.
NOTE: Rio, ReplayTV and Escient are registered trademarks of Digital Networks North America, Inc. All other products and brand names as they appear in this release are trademarks of their respective holders