RedMere Announces AUVIO Ultrathin HDMI Camera Camcorder Cables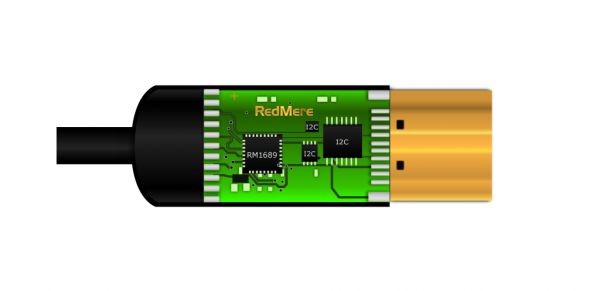 RedMere Active HDMI Cables
RedMere, a leading supplier of smart active cable solutions, has partnered with AUVIO to launch new ultrathin HDMI 1.4 active cables with built-in booster for the camcorder and digital camera market, now exclusively available at RadioShack.
Increasing video bandwidth for 3D TV and the emerging 4k x 2k ultra-HD resolution has meant that the typical HDMI cable has needed thicker copper and only short cable lengths could be achieved. However, the Auvio brand Ultrathin HDMI Cable incorporating RedMere's active cable technology booster allows for a cable design that is thinner, longer, more flexible, and more environmentally friendly, all while meeting the latest in HDMI 1.4 standards.
The Auvio Ultrathin HDMI cable is capable of 1080p, 3D and 4k x 2k resolution, with an Ethernet channel and audio return channel, and is light, flexible and therefore able to fit in your camera case or pocket. Capable of handling signals of up to 10.2 Gbps and guaranteeing optimum picture output with high-performance HDTV's and 3D HDTV's, these 10-foot cables can support resolutions higher than 1080p without an additional power supply.
The new Auvio Ultrathin High-Speed HDMI with Ethernet to Mini HDMI Cable will be available in nearly 4,500 convenient RadioShack locations nationwide beginning August 4.
Ruud van der Linden, RedMere's chief marketing officer, commented today saying, "We feel this is a highly significant development for RedMere as this partnership with Auvio is a huge endorsement for the patented technology we have developed. The chip technology means 80% of the copper can be removed allowing RadioShack to offer consumers the latest in highly portable and extremely light cabling, perfect for carrying and watching video and images in pure HD."
"Incorporating RedMere technology into Auvio's HDMI resulted in better performance from a thinner cable. This means you can enjoy a 1080p-quality HD experience from your camera or video recorder anywhere you go. It's a great example of Auvio's commitment to providing technology and performance that our customers are looking for," says Rick Vergara, vice president of innovation and private brands for RadioShack Corporation.
About RedMere
RedMere provides complete active-cable solutions to cable industry leaders and manufacturing partners. In a world where connection speed increases, RedMere enables easy to use, high quality, smart connectivity for The Home, On the Move and The Office. These new active cable systems deliver the ultimate in compact digital connectivity over HDMI, DisplayPort and USB for Video and Still Cameras, Smartphones, HDTV, Blu-Ray DVD, PS3 and Xbox, as well as enterprise solutions using Infiniband and PCI Express. RedMere is a private company with lead investors Celtic House Venture Partners and EdgeStone Capital Partners. www.redmere.com