Ready Acoustics Absorption Products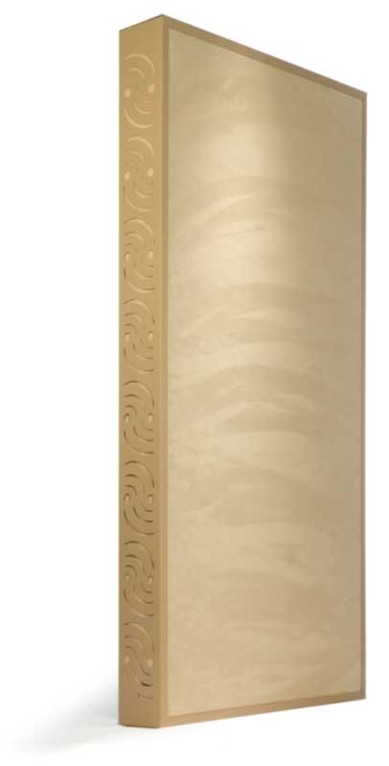 Ready Acoustics Chameleon Bass Trap
April 26, 2007 - Elk River, MN - Ready Acoustics announced today a series of new acoustic treatment products aimed at providing user-customizable aesthetic options for Home Theaters, Studios, Church's and other critical listening environments.
The Chameleon Bass Trap is a stylish steel-framed acoustic absorption panel with impressive performance and logo design perforations in the frame. Ready Acoustics have created the innovative Bass Trap Builder at their website which allows customers to pick frame colors and fabric colors (mix and match) and see the results of their selection immediately on a computer screen. The Chameleon Bass Traps come with a choice of 7 fabric colors and 6 powder-coated frame colors.

Ready Acoustics also announced a Do-It-Yourself version of the Chameleon product line in the form of the Chameleon Frame. The Chameleon Frame allows customers to easily create their own factory grade acoustic treatments from locally sourced choices of fabric or in combination with Ready Acoustics' Ready Bags.
The core concept behind the Chameleon Frame is that by allowing users to select the fabric for the panel upholstery, it satisfies the desire of many to more closely match their acoustic treatments to their décor. Folks can now use literally any fabric to create their own unique treatments. Ready Acoustics is aware that many users have been unable to find an acoustic solution for their rooms because they could not match their listening environment's aesthetic. The DIY Chameleon Frame allows users who might otherwise forego acoustic treatment to not only design a perfect aesthetic solution, but also significantly reduce cost.
Pricing:
Chameleon Bass Traps: $129.99/ea (quantity discounts available)
Chameleon Acoustics Frames: $34.99/ea (quantity discounts available)
The Bass Trap Builder, Chameleon Bass Traps, Chameleon Acoustic Frames and Installation guides are available at www.readyacoustics.com
For more information please contact
[email protected]
or
www.readyacoustics.com
Scott R. Foster posts on April 30, 2007 13:14
The Chameleon Frame is just that, a frame you self-assemble using your choice of fabric and a locally sourced mineral fiber core material. This approach allows you complete control of the look and saves on the cost of shipping mineral fiber . You will get best price from a local wholesaler if there is one available to you.. but if such is for some reason not readily available we also sell Owens Corning semi-rigid board.
If you have questions regarding the suitability of locally available materials, please contact us for specific advice.
Contact Ready Acoustics
Bryce_H posts on April 30, 2007 11:56
So for the frame option (34.99) is the consumer responsible for providing the acoustic absorbtion product as well as the fabric covering or do you only need to buy the fabric and cover the panel??
Post Reply