RBH Sound MC Series Loudspeakers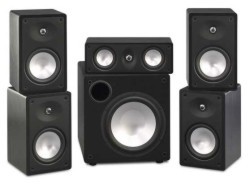 Layton, UT - RBH Sound's MC Theater Series has turned it up a notch introducing interchangeable speaker systems for home theater and audio enthusiasts, without the bank-breaking investment. Featuring high-quality components, a sleek look, and RBH's award-winning clarity and power, the sonically matched MC Theater Series offers customized systems designed to compliment every room.
Time and again practicality prevails over wanton desire when it comes to choosing a capable home theater speaker system. Stretched budgets and limited space issues leaves the home theater enthusiast with limited choices, and often forces them to mix and match speakers of different quality and brand in order to adhere to these constraints. RBH's MC Theater Series takes the guessing game out the decision offering a design-your-own solution by combining any MC high-performance component, or choosing from three expert-selected MC Series systems for less than $2600. Voice-matched to provide seamless integration, the MC Series encourages enthusiasts to make the most of their listening and viewing space. Ample room? - The commanding MC-6CT towers, MC-6C bookshelfs, and MC-616C center channel produce an all-out dynamic performance. Space at a premium? - the MC-4C, MC-414C, and TS-10 subwoofer deliver an impressive display of power and realism. Not limited to only the freestanding speakers - the entire line of RBH's MC Series in-wall speakers can be mixed and matched for the ultimate in flexibility.
Regardless of room size, the speakers' computer optimized crossover networks make assembling an in-sync home theater easy. The MC Series employs RBH's proprietary aluminum cone technology and new Resonance Damping Alloy Baffle™ (RDAB). Effectively minimizing vibrations and tweeter diffractions, the technology, along with the MC Series' medium density fiberboard (MDF) cabinetry and a newly designed tweeter with a ceramic magnet, delivers superior power handling and high frequency extension.
Cutting-edge in sound and style, the MC Series sports removable grills that reveal the redesigned baffles and countersunk woofers. Available in black oak veneer finish, the MC Theater Series' selection includes two bookshelfs (MC-4C, MC-6C), two center channels (MC-414C, MC-616C) a freestanding tower (MC-6CT), and two subwoofers available either powered, or passive (TS-10A, TS-12A). The MC Theater Series is available in three RBH customized packages or sold separately. All speakers are shipping now.
Since 1976, RBH Sound has been designing, engineering and crafting high-performance loudspeaker systems, delivering superior acoustic reproduction at sensible prices.
For the dealer nearest you, please contact: RBH Sound, Inc, 382 Marshall, Layton, Utah 84041. (P) 801/543-2200. (Toll Free) 800-543-2205. (F) 801-543-3300. Web Site: www.rbhsound.com .