QUAKE 4 for Xbox 360 Launched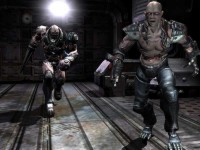 SANTA MONICA, Calif. - Nov 18, 2005 - It's "Lock and Load" for the Global Defense Force as id Software(TM) and Activision, Inc. (Nasdaq: ATVI) announced today that QUAKE 4(TM) for the Xbox 360(TM) video game and entertainment system from Microsoft has shipped to retailers nationwide. This next chapter in the futuristic war between the Earth and the Strogg transports players into the boots of Matthew Kane, an elite member of the legendary Rhino squad as they, along with an armada of Earth's finest soldiers, invade the home planet of the barbaric aliens threatening to annihilate Earth. QUAKE 4 for Xbox 360 is available at retail outlets for a suggested retail price of $59.99 and carries an "M" (Mature -- Blood and Gore, Intense Violence, Strong Language) rating by the ESRB.
"With QUAKE 4 for Xbox 360, gamers can now take the battle for Stroggos to the home theater as this epic war for survival comes to life with true hi gh-definition sights and 5.1 surround sound," said Todd Hollenshead, CEO, id Software. "This is the next generation of gaming and QUAKE 4 fans should prepare to experience a non-stop ride of action and adrenaline as they battle along side Rhino Squad, through this heroic mission to defeat the unstoppable Strogg army and preserve the human race."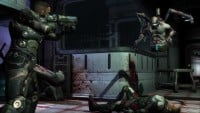 Developed by Raven Software and executive produced by id Software, QUAKE 4 picks up only moments after the events of the epic QUAKE II(R), with the Earth's fleet launching a massive offensive to the planet Stroggos. As Matthew Kane, gamers invade the alien stronghold fighting alone, along side other Marines, and in mechanized walkers and hover tanks in incredible combat missions against the Strogg and their disturbing amalgamations of man and machine. Built on id Software's revolutionary DOOM 3(R) technology, QUAKE 4 also features the world renowned fast-paced multiplayer competition-style gameplay of the historic QUAKE III Arena(R). Incorporating Capture the Flag, Arena Capture the Flag, Deathmatch, Team Deathmatch, and an all new Tournament mode for up to 8 players on Xbox Live(R) online gaming system or System Link, QUAKE 4 is poised to set the standard for online multiplayer bragging rights.
QUAKE 4 also contains hours of bonus content, including behind-the-scenes videos and interviews plus a complete version of QUAKE II(R), re-engineered exclusively for Xbox 360 featuring up to 4-player support for co-operative play and multiplayer support over System Link.
For more information on QUAKE 4, please visit www.quake4game.com .