Qsonix Launches Q100 Music Server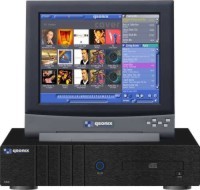 AGOURA HILLS, Calif. - October 25, 2005 - Offering consumers the easiest user interface found in any digital music server, Qsonix™, Inc., announces the Q100 Digital Music Entertainment (DME) System, a digital music management system that incorporates the industry's first "drag and drop" graphical user interface technology.
Capable of storing up to 7,500 CDs, users simply utilize their fingers to manage their music collection with the industry's best-in-class touchscreen display panel, as they drag and drop individual tracks or complete albums to create, manage and play their music playlists, eliminating the use of frustrating menus or complicated steps found on other systems. The Q100 DME, which comes with either 160GBs or 400GBs of hard disk storage, and a 15-inch TFT LCD touchscreen controller, can be integrated with leading home automation solutions and are designed for both residential and commercial applications. Both are available now.
"Qsonix has taken a new and incredibly intuitive approach to music management," said Mike Weaver, president of Qsonix. "Qsonix re-unites users with their music by incorporating an intuitive, engaging and visual presentation that allows music to be accessed with the simple touch of the finger. Designed for even the most technology-phobic users, our system can be mastered in minutes and enjoyed for years by the whole family."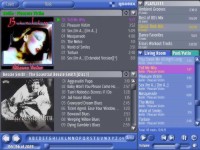 Unique GUI Let's Your Fingers Do The Walking
Accessed through the Q100's 15-inch LCD touchscreen controller, the company's innovative GUI (graphical user interface) puts all the unit's features right at the user's fingertips. Accessing the company's unique Album Browser™ music navigation system, users can quickly browse through their entire music library, as each album is presented graphically with it's cover artwork, artist, genre, year and song track information right on the screen. Music can also be easily sorted by artist, album, genre, or year, as well as by keyword. Any music selection can be quickly queued up for playback or can be added to a playlist simply by dragging them to the appropriate list, and tracks can be added to or deleted from any playlist or from the "now playing" queue at any time the same way.
Fast Preview™ allows users to preview songs without interrupting a current playlist. When a song is chosen for preview, the first few seconds of any song are played, before the system reverts to the previously selected playlist. And to further enhance the user experience, the Qsonix playback engine includes Softfade™, a patent pending technology that delivers professional user controllable volume control and cross fading effects. All transitions including music start, stop and track changes will fade in and out smoothly for an enhanced listening experience.
CD Loading
The Qsonix Q100 system also features a robust, high-speed CD ripping engine that automatically acquires all album art, track, artist and album information and places it directly in your music library. The system offers customized storage capacity, supporting three compression ratios: CD Quality Lossless Compression, High Quality (320Kbs), and Normal Quality (192Kbs). A typical 70-minute CD will automatically load in three to four minutes, and custom compilation CD's can be loaded using the Q100's built-in, onscreen data entry wizard, allowing the entry of all information about your custom CD quickly and easily using the touchscreen.
Five-Minute Installation
Designed with the end-user in mind, the Q100 features a simple to follow setup wizard that reduces installation time to as little as five minutes. Once the Q100 is connected to the main audio system via the unit's analog or digital audio connections, it automatically activates its onscreen setup wizard that guides the installer through initial set up, including Internet connections and preferences. The Q100 can be utilized as a stand-alone source component or integrated into a custom installation using its comprehensive RS232 serial control interface. The system also supports two-zone capability, allowing independent library management and playback of different music in each zone.
Available through a variety of custom installers, professional audio/video dealers and retailers internationally, the Q100 has an MSRP of $5495 including touchscreen controller.
About Qsonix
Located in Agoura Hills, California, Qsonix is a market innovator and leader in providing user-friendly digital media technologies. With its world-class user interface, Qsonix offers the most reliable and truly friendly digital music management systems available. Qsonix products address a wide variety of lifestyles, tastes and environments. Consumers and Businesses alike can quickly and easily store, organize and playback music without the hassle.
Qsonix's entry into the Home Entertainment market is focused on music enthusiasts that are typically served by the custom installer channel for discrete audio and home theaters, as well as more complex whole house distributed audio environments.
Qsonix also markets to the commercial market, which consists of public venues where background music playback provides an important role in the mood, entertainment or theme of the establishment. Public venues include bars, pubs, clubs, restaurants, eateries, coffee houses, hotels, department stores, retail outlets and professional offices.