Proview Intros MH-462SU Super-Thin Plasma TV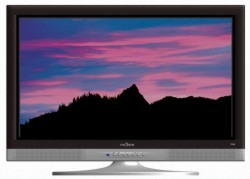 MAHWAH, New Jersey - Proview's new 46-inch Model MH-462SU plasma display offers all the features of today's flat-panel TV revolution, for a suggested retail price of just $3,199. That's hundreds or even thousands of dollars less than many other flat-panel sets in its quality category. Furthermore, the set's uniquely designed 46-inch screen size offers nearly 20% more viewing area than conventional 42-inch models, making it easier than ever to bring the power of the cinema right into your living room, den or bedroom.
The full-featured widescreen EDTV-Ready MH-462SU is packed with today's most advanced big-screen flat-panel display technologies, offering dramatically improved digital image quality, with crystal clear detail, exceptional brightness and unbelievably realistic colors, plus all the latest convenience features like PIP (picture-in picture) and POP (picture-outside-picture). The stylish black and silver set comes with a furniture-quality table stand and unique built-in speakers, making it ideal for placement anywhere in the home. And for the ultimate in space-saving chic you can even hang it on the wall of your living room or den!
New Quality Standards for Its Price Range
The MH-462SU EDTV plasma display sets new quality standards for its price range, featuring a stunningly crisp and clear panel resolution of 852x480p. Its realistic and pure digital images are enhanced through the use of some of today's most advanced TV technologies, including sophisticated Faroudja DCDi video processing with 2:3 Pulldown Cinema Correction. This breakthrough means all your DVD movies and TV broadcasts will be more natural-looking, with smoother moving images and a significant reduction of image-degrading artifacts, especially in fast-moving scenes. To further enhance image quality, the MH-462SU includes a DVI w/HDCP input, a 3D Y/C Digital Comb Filter and more.
The MH-462SU is joined in the current Proview lineup by the MH-422SU 42-inch EDTV monitor (SRP: $2,199.99). All current Proview plasma displays feature speakers for total home theater flexibility and placement, as well as DVI with HDCP, NTSC TV tuner(s) with PIP/POP, speakers, 3D Y/C comb filter and video noise reduction, SRS® WOW™/BBE®, PC compatibility and HDTV input capability.
Proview plasma and LCD monitors are available in regional, chain and independent consumer electronics stores.
About Proview International Holdings, Limited
Proview International Holdings, Limited is one of the world's five largest manufacturers of high-performance display devices. Headquartered in Hong Kong, the company is a recognized leader in the development of advanced display technologies, marketing monitors under its own brand Proview, as well as under various licensed brands, including Xerox, Sylvania, and MAG Innovations, through retail and commercial channels throughout the world. For additional information, visit www.proview-usa.com .