Promixis Launches NetRemote 1.0 Series - Pocket PC Remote Control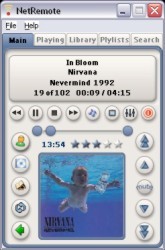 Minneapolis, MN - December 31, 2004 - Promixis LLC today announced the immediate availability of the entire NetRemote series at its website: http://www.promixis.com . NetRemote allows users to easily transform their Pocket PC's into remote controls to manage their digital media libraries, control their PC's and home theater equipment, and automate their home. NetRemote is the only application available that combines wireless (WiFi), consumer infrared (IR) and PC controls, thereby allowing the Pocket PC owner control over the widest array of software, hardware and systems. NetRemote is sold online at www.promixis.com and is available in three versions: NetRemote Music, IR and Pro, starting at $19.99.

The NetRemote series has been in development for the last 2 years and through this process has built an active online community of thousands of users. The commercial launch of NetRemote takes the input, testing, extensive library of custom skins and plug-ins and contributions of this user community to provide Pocket and Window PC users a highly unique and rich set of controls.

NetRemote Music ($19.99)- Music provides wireless control of Windows Media Player, J. River Media Center, and Apple iTunes. Users now have full control of their digital music library from anywhere in their house. With NetRemote, you can browse and play music by artist, genre, playlist, or album cover art from your Pocket PC or Windows computer. Also, since the NetRemote uses WiFi to communicate, there are no line of site issues common with most standard remote controls. As a result, NetRemote users can access and control their music from anywhere in their home.

NetRemote IR ($19.99)- IR provides infrared remote control of any audio, video or IR-enabled device. Users can consolidate all of their various remote controls into one central IR remote - their Pocket PC. NetRemote IR turns the Pocket PC into a learning remote and users can create macro commands for controlling several devices with one button click.

NetRemote Pro ($29.99)- Pro is the complete automation solution. Pro enables users of the highly popular Girder application the ability to use Girder in conjunction with NetRemote to customize and automate a wide array of PC functions and home automation devices. Pro also includes all the features of NetRemote Music and NetRemote IR. For more information about Girder, see the Promixis website.

Users may download a 30-day free trial of NetRemote at http://www.promixis.com . NetRemote supports most leading Pocket PC devices (PPC 2002 or greater), such as the Dell Axim line and HP/Compaq iPaq series and Windows 98 and greater operating systems. IR performance is device dependent. Wireless control requires WiFi or BlueTooth capability.

About Promixis
Promixis, LLC., the makers of Girder and NetRemote, and a leader in PC and wireless application remote controls provides applications built to serve the digital media enthusiast. Privately held, Promixis was founded in 2004 to unleash the digital assets of mainstream users who want the most from their digital content libraries. Promixis is headquartered in Minneapolis, MN, and can be found online at http://www.promixis.com .