PRETEC USB Flash Drive Fashion Accessories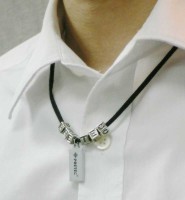 TAIPEI, Taiwan - May 30, 2005 - Pretec Electronics Corp., the inventor of i-Disk Tiny, the smallest USB flash Drive in the world since 2003, is demonstrating USB Flash Drive Fashion Accessories based on patented CU-Flash technology, at Computex 2005 (Hall 4, T202B) in Taipei.
With a volume of 0.63cm (27mmx12mmx1.9mm), 40% smaller than a US Quarter coin, and only 1/3rd of the size of bare i-Disk Tiny (volume of 1.88cm) which has been hailed by TIME Magazine (Nov. 2003) as "Best Gear of 2003"; CU-Flash is about 1/10 of the size of a typical USB flash drive. Examples of USB Flash Drive Fashion Accessories such PRETEC ear-rings based on CU-Flash technology will be worn by PRETEC staff in the show; so small that most people will have a hard time to believe that around 10,000 pictures (1GB) can be fashioned to one's ear lobe. With a sleek patented design and stylish outlook, CU-Flash can be an ideal add-on for any stationery such as pen, jewelry or personal accessories such as watch, necktie pin, cuff link, money-clip and more. PRETEC will demonstrate many fashionable accessories and novel USB flash drives based on CU-Flash/i-Disk Tiny in Computex 2005, including i-Duck, Sushi Disk, Food Disk, Ghost Radar, ear-rings, key chain, belts, necklaces, necktie pin and etc.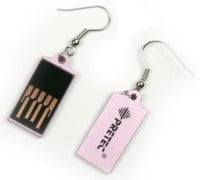 PRETEC is also the only one in the world offering the largest capacity USB flash drive (8GB/4GB) and the fastest USB flash drive in the world (166X/266X) at CES 2005. With more than 100 patents granted or filed, PRETEC offers simultaneously the smallest size, the largest capacity, the fastest, and the most admirable USB flash drive applications in the world to the fashion industry.
About Pretec
Pretec(TM) Electronics Corp. ( http://www.pretec.com ) offers a complete spectrum of small form factor memory cards and card readers such as ATA/CF card, IDE & Mini-IDE Flash Drive (MIDE(TM)), MMC, and SD Card for the digital imaging, mobile computing, and Military/Industrial Control markets; and is the creator of Innovative CompactI/O(TM) cards for PDA, digital cameras and many IA devices. Pretec has consistently demonstrated the highest capacity CF cards in the world; such as 80MB, 128MB, 160MB, 320MB, 640MB, 1.5GB, 2GB, 3GB, 6GB and 12GB CF card at various locations around the world for the past six years.