Premier Mounts Intros P-VCES100 AV Shelf System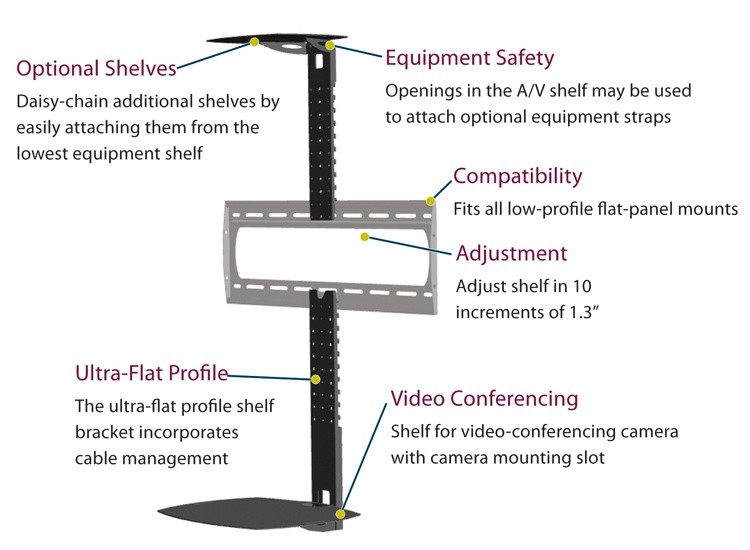 Premier P-VCES100 shelf system
Premier Mounts, a global leader in A/V mounting products, introduces an ultrathin, adjustable A/V shelving system that complements Premier Mount's line of low profile flat-panel mounts. The "P" Series Video Conference & Equipment Shelf 100 (P-VCES100) shelf system perfectly mounts the video conferencing cameras above the flat-panel display and can "daisy-chain" the A/V equipment or computers below it. The P-VCES100 is the ideal accessory for flat-panel mounts that adds a key utility to this mainstream application. This versatile shelving system solves many installation problems where source equipment and/or a video conferencing camera needs to be installed next to a flat panel.
The P-VCES100 shelf combination includes the P-ES100 large shelf (20"W x 18"D) and the P-VCS camera shelf (14"W x 12"D), which has a mounting slot for a video conferencing camera. Both shelves use ultrathin brackets to hook in the wall plate of the flat panel mount at various heights to accommodate any common flat-panel screen size.
When extended to their maximum height, the P-VCES100's brackets and shelves allow more than 48" of vertical space for the display and A/V equipment. To meet your equipment needs, adjust the shelves in 10 increments of 1.3" and even attach additional large equipment shelves (P-ES110) as desired by "daisy-chaining" them from the lowest equipment shelf. An ultra-low profile shelf bracket allows for simple cable management that improves the appearance of your display and equipment. Slots in the sides of the A/V shelves are designed for attaching security straps to the equipment if needed.
The P-VCES100 is designed for Premier Mounts' P-Series, one of the thinnest low profile flat-panel mounts on the market. Various models hold flat-panel displays (up to 80" diagonal in size) less than 1" from the wall and have optional tilt for the best viewing angle. Post-installation leveling on both flat and tilt versions, as well as built-in lateral shift, allow fine-tune adjustments of the display after installation. A large cutout on the wall plate allows for easy cable access and power distribution installations.
The P-Series mounts include Premier Mounts' complete universal hardware pack to suit your installer's needs; universal spacers and washers that fit multiple screw sizes; and bolts and anchors for attaching the mount to any mounting surface, whether wood, concrete or steel. A Lock-It security barrel is also included with each mount for true security. Included as one of Premier Mounts' standard features, the security barrel offers an easy-to-install and cost-effective solution for customers securing their investments.
In addition to being a great standalone mount, the P-Series mounts can be assembled into a video wall by simply bolting multiple P-Series mounts side-by-side, using a combination of short display brackets and flat-panel displays up to 60" diagonal in size.
For more information, including pricing and shipping dates about the P-VCES100 A/V Shelving System, the P-Series of low-profile flat-panel mounts and other innovative Premier Mounts mounting products, contact customer service at (800) 368-9700 or visit www.mounts.com.
About Premier Mounts
A global leader in developing and delivering innovative mounting solutions, Premier Mounts has been at the forefront of the A/V industry for more than 30 years. Pioneering the modern concept of universal A/V mounting hardware and developing a magnitude of industry firsts, Premier Mounts has opened new opportunities to installing A/V technology in businesses, schools, hospitality and residential settings. With extensive in-house design and fabrication capabilities of its Premier Custom division, Premier Mounts is able to address the most challenging A/V installation scenarios. Today, Premier Mounts' employees around the world are committed to achieving the company's core value of "creating positive customer experiences". For more information on Premier Mounts, please visit www.mounts.com