Premier Mounts Adds New Model-Specific Projector Mounts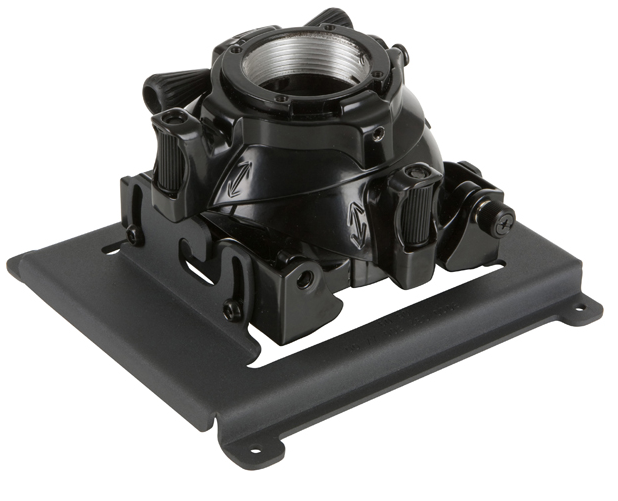 Sony VPL-PX31 bracket FTP/PDS-003
Premier Mounts' model-specific projector mounts help minimize the time needed to install a projector. They are a big cost saver for projects that require installing a large number of projectors. Installation time is reduced because these mounts have mounting-hole patterns designed for specific projector models. Simply attach the mounting plate to the projector, then hook and fasten the mounting plate/projector assembly to the mount. Premier Mounts recently released model-specific Fine-Tune Projector (FTP) and PDS mounts for projectors from Sanyo (FTP/PDS-088), Mitsubishi (FTP/PDS-089), Sharp (FTP/PDS-091), NEC (FTP/PDS-092) and Christie (FTP/PDS-093).
Premier Mounts builds a full line of model-specific mounting brackets to fit hundreds of projector models for a quick and easy out-of-the-box installation. It has successfully custom designed model-specific mounting brackets for projectors from Sony, Sharp, Panasonic, Hitachi, Sanyo, NEC, Mitsubishi, Christie, Runco and many others.
Recently-released model-specific mounts:

Model Name/Compatible Projector(s)
FTP/PDS-088: Sanyo PLC-XM150L
FTP/PDS-089: Mitsubishi XD8100U
FTP/PDS-091: Sharp PGD2710X
FTP/PDS-092: NEC NP600S
FTP/PDS-093: Christie LX605, Christie LX400
Find out what model-specific mounting brackets are readily available by using Premier Mounts' Mount Locator on www.mounts.com. Select the display manufacturer, then select the display/projector model. If you cannot find the right projector mount and brackets, call the sales support department at (800) 368-9700 to learn more about Premier Mounts' model-specific mount program. The custom team can design brackets for the projector quickly and economically.
To request a demo or for more information on pricing and shipping dates for these and other innovative mounting products, call Premier Mounts customer service at (800) 368-9700 or visit the Premier Mounts website at www.mounts.com. Download the Premier Mounts 2010 full-line digital catalog to your iPhone or iPad from the iTunes store.
For more information on Premier Mounts, please visit www.mounts.com.
About Premier Mounts
A global leader in developing and delivering innovative mounting solutions, Premier Mounts has been at the forefront of the A/V industry for more than 30 years. Pioneering the modern concept of universal A/V mounting hardware and developing a magnitude of industry firsts, Premier Mounts has opened new opportunities to installing A/V technology in businesses, schools, hospitality and residential settings. With extensive in-house design and fabrication capabilities of its Premier Custom division, Premier Mounts is able to address the most challenging A/V installation scenarios. Today, Premier Mounts' employees around the world are committed to achieving the company's core value of "creating positive customer experiences".
Recent Forum Posts: