Premier Mounts IPM-700 iPad Wall Mount Preview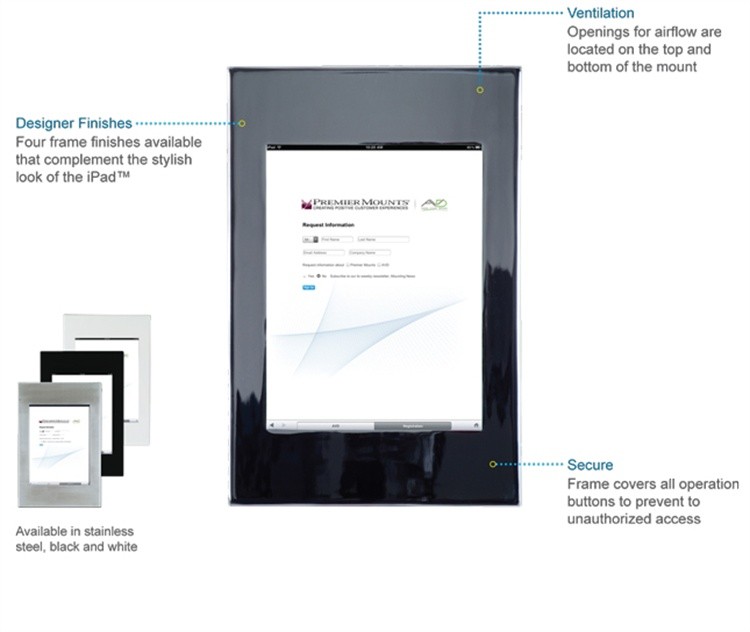 Premier Mounts IPM-700 iPad Wall Mount
Digital signage used to be super expensive and require the use of special displays that could hold up to continuous use. If you wanted touchscreen technology - fageddaboudit, that was ridiculously cost prohibitive. Now, the iPad changes all of that - at least for applications requiring a smaller screen. The IPM-700 is a sleek frame from Premier Mounts designed to fully secure an iPad in a wall mounted digital signage environment. The commercially-focused product features a simple four-screw installation and is available in a variety of finishes. The IPM-700 looks really elegant and, for custom integrators, should provide a simple way to turn a client's iPad into a protected digital signage delivery platform. The new wall mounting frame completely covers all of the iPad controls and allows easy and safe access to just the touchscreen. The effect is one that turns the popular Apple tablet into a compact interactive display for digital signage. We remember when small LCD displays cost over $200 - now you can get one that has touchscreen technology, video streaming support and apps. The frame, with various aesthetically attractive finishes, seems perfectly suited towards retail, hospitality, corporate environments and tradeshows.
Features
Frame covers all operation buttons to prevent to unauthorized access
Ventilation openings for airflow are located on the top and bottom of the mount
Frame is available in chrome, stainless steel, white and black finish
Quick simple installation using only four screws on any flat surface
Frame easily removes with two M3 set screws for maintenance
Frame is wifi/wireless network compatible
Open frame allows mounting on top of optional In-Wall Cable and Power GearBox (GB-INWAVPB)
The world is growing ever more capable and products like the IPM-700, which take advantage of innovative electronics, are growing more prevalent. Kudos to Premier Mounts for jumping on this and finding a new niche market for Apple's touchscreen. For more information, please visit PremierMounts.com.