Playstation Portable Enters Japanese Market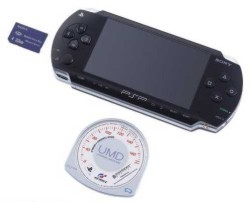 Tokyo, October 28, 2004 - Sony Computer Entertainment Inc. (SCEI), announced today that it would release its new handheld video game system, PSPTM (PlayStation®Portable) (PSP-1000), on December 12, 2004, at a recommended retail price of 19,800 yen excluding tax (20,790 yen including tax) for the Japanese market.
With high-quality graphics processing capability equivalent to that of PlayStation 2, in addition to rich stereo sound, PSP offers the joy of playing full-scale 3D-CG games and viewing high resolution video images anytime, anywhere.
Equipped with a wireless LAN feature (IEEE802.11b), PSP enables users to connect to the Internet through access points, making it possible for users to download game characters and content and also to play games on-line with families, friends and on-line community members. For a more intimate gaming experience, a maximum of 16 PSP systems can be connected wirelessly through the ad-hoc mode allowing family and friends to create an instant yet powerful local on-line entertainment community (*1). PSP features an integrated high output lithium-ion battery that provides play time of between 4 and 6 hours for game titles and continuous 4 to 5 hours for video viewing. (SCEI actual measurement) (*2)
With PSP, the world of PlayStation, people's most favorite platform, is further enhanced. A 4.3 inch wide 16:9 high resolution LCD screen, the largest in a handheld gaming device, creates a personal environment in which to enjoy games, music and video anytime, anywhere, with a dynamism that has never been possible before.
To accompany the launch of the PSP system, a total of 21 game titles from SCE and third party software developers and publishers will be released by the end of this year. In addition to these titles, over 100 exciting new titles are currently in development. Innovative titles using the unique features of PSP, as well as PSP versions of hit titles that have been the drivers of the PlayStation platform will continuously be introduced.
Entertainment software of an entirely new category mixing game, music and video on a single UMD® is expected to be released in spring 2005, further enriching the world of PSP.
With PlayStation, PlayStation 2 and PSP, SCEI will continue to expand the market and create a new world of computer entertainment.
(*1) Complies with IEEE802.11b. Typical indoor range of approx. 30m at 11Mbps and approx. 91m at 1Mbps. Typical outdoor range of approx. 120m at 11Mbps and approx. 460m at 1Mbps. However, places with obstacles and strong electromagnetic waves, range may become narrower or transmission may be cut.
(*2) Measurement conditions: display luminance set to maximum (180 cd/m2) and minimum (80 cd/m2) while volume is set to half of the maximum level, headphone in use and wireless LAN not in use.
PSP™ (PlayStation®Portable) Basic Specifications and Features
Product Name: PSP™ (PlayStation®Portable)
Color: Black
Product Code: PSP-1000
MSRP: 19,800 yen ($186 USD)
Dimensions: Approximately 170mm (W) x 23mm (H) x 74mm (D)
Weight: Approximately 280g (including battery)
CPU: PSP CPU (System clock frequency 1`333MHz)
Main Memory: 32MB
Embedded DRAM: 4MB
Display:
4.3 inch, 16:9 Wide screen TFT LCD
480 x 272 pixel, 16.77 million colors
Maximum luminance 180 / 130 / 80cd/m2 (when using battery pack)
Maximum luminance 200 180 / 80cd/m2 (when using AC adaptor)

Sound: Built-in stereo speakers
Main Input/Output:
IEEE 802.11b (Wi-Fi)
USB 2.0 (mini-B)
Memory Stick PRO Duo™
IrDA
IR Remote (SIRCS)

Main Connectors:
Memory Stick Duo™ Slot
USB connector
DC OUT connector
DC IN 5V connector
Headset connector

Keys/Switches:
Directional buttons (Up/Down/Right/Left)
Analog Stick
Enter keys (Triangle, Circle, Cross, Square)
Left, Right buttons x 1
START button, SELECT button, HOME button x 1
POWERHOLD switch x 1
Display button, Sound button, Volume +- buttons x 1
Wireless LAN switch (ONOFF) x 1
OPEN latch (UMD) x 1

Power: Lithium-ion Battery, AC Adaptor
Disc Drive: UMD Drive (Read only)
Profile: PSP Game, UMD Audio (profile name TBD), UMD Video (profile name TBD)
Codec: Video: H.264 / AVC MP Level3, Audio: ATRAC3plus™AMP3
Security: (Encryption) 128bit AES (Copyright protection technology), MagicGate™
Access control: Region, Parental Control
Wireless communications: Infrastructure mode, Ad hoc mode (connection up to 16 consoles)
Supplied accessories:
AC adaptor
Battery pack

Separately Sold Accessories:
Memory Stick Duo™
Product Code: PSP-M32
Recommended Retail Price: 2,800 yen ($26 USD)
Specifications:
Copyright protection technology : MagicGate™
Capacity: 32MB
Dimensions: Approximately 20mm (W) x 1.6mm (H) x 31mm (D)
Weight: Approximately 2g
AC adaptor (for PSP™)
Product Code: PSP-100
Recommended Retail Price: 3,500 yen ($33 USD)
Specifications:
Rated input voltage : 100V - 240V 50/60Hz
Rated voltageelectrical current output : 5V / 2.0A
Dimensions: Approximately 76mm (W) x 22mm (H) x 46mm (D)

Battery pack (for PSP™)
Product Code: PSP-110
Recommended Retail Price: 4,800 yen ($45 USD)
Specifications:
Voltage/Capacity : 3.6V/1800mAh
Dimensions: Approximately 52mm (W) x 12.5mm (H) x 36mm (D)
Weight: Approximately 44g

Headphone with remote control (for PSP™)
Product Code PSP-140(W)
Recommended Retail Price: 2,800 yen ($26 USD)
Color: White
Specifications:
Remote Control : PlayPause, FF, FR, Volume +/-, Hold switch
Headphone : In-the-ear type headphone

Soft case and hand strap (for PSP™)
Product Code: PSP-170(B)
Color Soft case: Black
Hand strap: White
Recommended Retail Price: 2,000 yen ($19 US)
Specifications:
Soft case Dimensions: Approximately 195mm (W) x 7.5mm (H) x 108mm (D)
Hand strap Dimensions: Approximately 189mm (W) x 3.3mm (H) x 9mm (D)

Design and specifications are subject to change without notice.
About Sony Computer Entertainment Inc.
Recognized as the global leader and company responsible for the progression of consumerbased computer entertainment, Sony Computer Entertainment Inc. (SCEI) manufacturers, distributes and markets the PlayStation® game console and PlayStation®2 computer entertainment system. PlayStation has revolutionized home entertainment by introducing advanced 3D graphic processing, and PlayStation 2 further enhances the PlayStation legacy as the core of home networked entertainment. SCEI, along with its subsidiary divisions Sony Computer Entertainment America Inc., Sony Computer Entertainment Europe Ltd., and Sony Computer Entertainment Korea Inc. develops, publishes, markets and distributes software, and manages the third party licensing programs for these two platforms in the respective markets worldwide. Headquartered in Tokyo, Japan, Sony Computer Entertainment Inc. is an independent business unit of the Sony Group.
PlayStation and the PlayStation logo and UMD are registered trademarks of Sony Computer Entertainment Inc. PSP is a trademark of Sony Computer Entertainment Inc. All other trademarks are property of their respective owners. Memory Stick Duo, Memory Stick PRO Duo, ATRAC3plus and MagicGate are trademarks of Sony Corporation.