Pixel Magic Intros 1080p HD MediaBox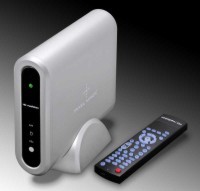 RIDGEFIELD, NJ - April 13, 2006 - Pixel Magic Systems, developer of the world's first Linux-based video processor, has introduced its new HD MediaBox™. The powerful high-definition media player delivers instant network centralized HD media storage, management, and access for high-definition video, digital photos, digital audio and DVD files from one box, no matter where the files are stored.
The small-footprint MediaBox (4.1" x 9" with stand) lets users add up to a 500GB SATA hard drive allowing users to access files stored locally in the MediaBox, as well as from a personal computer; from a USB hard disk drive; or from any network-attached storage box.
The HD MediaBox supports output resolutions of up to 1080p, so all HD media regardless of native resolution can be played properly on any display. Any VGA, component video, DVI or HDMI-equipped display device can be used, from flat panel displays to projectors to HDTVs.
"To get so much capability in a unit this size is impressive," says Gary Plavin, representing Pixel Magic Systems in North America. "You get all the digital optical, coax, and analog connectors needed to deliver high-fidelity audio and video for any home theater or stereo system."
Two Models, for Video and Advanced Audio
For movies, TV programs, camcorder footage and more, the standard HD MediaBox MB100 supports the most popular formats: MPEG 12/4, WMV9, DivX™ and XviD, as well as DVD, .ISO and .VOB files. By outputting everything through the digital HDMI connection, the user can go digital all the way to the display system.
The HD MediaBox MB200 Audiophile Edition adds a low-jitter temperature compensated crystal oscillator (TCXO) to dramatically improve spaciousness, clarity, impact and purity. The HD MediaBox can now be the center of a user's hifi as a high-end CD jukebox storing thousands of CDs.
Plavin points out, "With an unprecedented retail price of $599.00, the HD MediaBox allows everyone to have a centralized media server and HD video system in their home."
Corporate Information
Established in May 2003, Pixel Magic Systems is an award-winning developer and manufacturer of innovative technologies and products for the Home Theatre video processing and scaling market. Pixel Magic is recognized as a rising star in the consumer electronic home theater industry by gaining the 2005 CES Innovations Design & Engineering Showcase Award, and both 2004 and 2005 Hong Kong Technological Achievement Award for Industry.
For additional pricing and technical information, please visit www.pixelmagicsystems.com .