Pioneer Elite VSX-84TXSi 1080p HDMI Receivers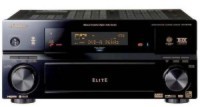 LONG BEACH - June 7, 2006 - Pioneer Electronics (USA) Inc. today introduces four new Pioneer Elite® A/V receivers designed for audio and video purists seeking the ultimate high definition home theater. The Pioneer Elite VSX-80TXV, VSX-81TXV, VSX-82TXS, and VSX-84TXSi receivers are full high-definition A/V control centers with sophisticated connectivity for all home entertainment components. Two of the four models feature superior HDMI scaling for upconversion of standard resolution video to match the resolution of the television, and all four models are fully capable of connecting 1080p components such as 1080p HDTVs and Blu-ray Disc players. Advanced HDMI switching capabilities offer a single wire solution with faithful reproduction of high-resolution entertainment content.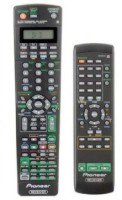 Pioneer's third generation Multi-Channel Acoustic Calibration (MCACC) auto room-tuning feature optimizes sound levels so multi-channel music, movies and games sound great in any room. Music fans will appreciate the new receivers' dedicated iPod player, XM HD Surround powered by Neural Audio, and new PC audio inputs for countless hours of listening enjoyment. For times when users want entertainment in rooms other than the primary entertainment area, the Pioneer Elite receivers provide multi-room, multi-source capability for simple, total control of all components in multiple rooms.
"If you think of an entire home entertainment system as a symphony, the A/V receiver would be the conductor; directing the entire orchestra of components, while at the same time making sure that individual sections are always in tune. The conductor makes sure that the combination of players results in a total, seamless performance that takes an audience's breath away. Pioneer's new receivers are some of the finest 'conductors' of home theater," said David Bales, manager of audio video marketing and product planning for Pioneer Electronics (USA) Inc.
High Definition A/V Control Center
All four Pioneer Elite AV receivers are designed to give consumers ultimate control of their home entertainment experience. Offering advanced connectivity, the receivers ensure consumers can easily upgrade to the next hot technology source.
The VSX-82TXV and VSX-84TXVi use a new Genesis video scaler chip with DCDi by Faroudja technology to upconvert video to 480p, 720p, or 1080i resolutions. The VSX-80TX provides digital video conversion to component video. All four receivers possess multiple HDMI connections for immediate switching between video sources (DVD, Blu-ray Disc, video game, etc.) without compromising picture or audio quality.
The receivers offer superb multi-channel audio via a high-performance Digital Core Engine that provides smooth, powerful sound output. With THX Select2 certification and processing, listeners hear high-impact sound performance for cinema, concerts and gaming in rooms up to two thousand square feet.
Auto Room Tuning
No two rooms are alike. That's why Pioneer includes a room-tuning feature to improve sound quality for ultimate surround sound in any area. The advanced Multi-Channel Acoustic Calibration (MCACC) automatically calibrates all speakers making subtle adjustments, neutralizing the sound field of the listening space, and fine-tuning it for optimal sonic performance. Simple one-touch activation of the MCACC microphone automatically tunes the acoustics in a room to bring music and movies to life with a high degree of accuracy. With memory settings, a consumer can preserve their favorite room tuning for anything from close quarter combat on gaming systems to lounging in a chair listening to music.
Complete Entertainment: iPod and XM Satellite Radio
Fans of the world's most popular digital music player, iPod, can connect it directly to three of the four AV receivers with a single cable included with the receiver, or to the fourth using a separate iPod docking station for Pioneer receivers available for $99. This allows them to hear their personalized play-lists through their home theater sound system. The VSX-82TXV and VSX-84TXVi offer advanced connectivity to new iPod players that hold photos and video. Accessing the iPod is simple with the receiver's remote control, which can be used to navigate through the content in the player. To see what song is playing without leaving the couch, data can be viewed on a scrolling 14-character display on the receiver or on the TV screen.
Pioneer Elite A/V receivers provide connectivity to an XM Connect & Play antenna (sold separately; monthly subscription needed), bringing more than 170 channels of original music programming, sports, news and entertainment to the home theater. Scrolling through the XM channels is simple with the receiver's remote control. As a full HD control center, it is enabled to receive the new XM HD Surround broadcasts, which provide multiple channels of complete 5.1 surround sound music powered by Neural Audio. The latest technology in digital audio, Neural Surround delivers discrete surround audio channels in a format compatible with today's stereo systems for a pure sound stage.
Consumers now store vast amounts of their music collection to a PC hard drive, which creates a demand for easy ways to listen to favorite songs through appropriate speakers instead of small computer speakers or headphones. The top-of-the-line VSX-84TXVi has a USB input for direct connection to a PC to access an entire song set in complete surround sound. Since compressed audio can lose small amounts of data in the compression process, Pioneer's sound retriever technology fills any of the missing pieces of audio for near CD-quality performance.
Full Custom Installation Ready
All four of the Pioneer Elite AV receivers provide features that make them easy for custom installation, including:
Multi-room, multi-source capabilities allowing a single receiver to act as the entertainment centerpiece of multiple rooms
RS232 port for PC and control connectivity
LCD preset/learning remote with preset multi-operation control
Secondary main room remote control for iPod and XM control
The VSX-81TX, VSX-82TXV, and VSX-84TXVi are now available at suggested prices of $950 and $1200, and $1500 respectively. The VSX-80TX will be available in July at a suggested price of $650.
Pioneer's Home Entertainment and Business Solutions Group is a leading marketer of plasma televisions and monitors, Blu-ray Disc and DVD products, A/V receivers, speakers and other audio and video accessories. Its focus is on the development of new digital technologies including Digital Network Entertainment™. The company markets its products under the Pioneer and Pioneer Elite brand names. When purchased from an authorized dealer, consumers receive a limited warranty for one year with Pioneer products and two years with Pioneer Elite products.
Pioneer Electronics (USA) Inc. is headquartered in Long Beach, Calif., and its U.S. Web address is www.pioneerelectronics.com. Its parent company, Pioneer Corporation, is a leader in optical disc technology and a preeminent manufacturer of high-performance audio, video and computer equipment for the home, car and business markets. The company focuses on four core business domains including Blu-ray Disc and DVD, display technologies, navigation and Digital Network Entertainment™.