Pinnacle to Integrate Dolby Digital 5.1 Creator Technology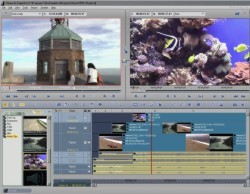 SAN FRANCISCO - Dec. 7, 2004 - Dolby Laboratories today announced its Dolby(R) Digital 5.1 Creator multichannel encoding technology is being licensed by Pinnacle Systems, Inc. (Nasdaq:PCLE) and embedded within Pinnacle's latest desktop digital video editing software products. Dolby Digital 5.1 Creator is a standard feature in Pinnacle's professional Liquid Edition line of products and is also available as an option for Studio Plus, Pinnacle's advanced consumer video editing and disc authoring application. The technology makes it possible for everyone from home enthusiasts to high-end users to create DVD-video soundtracks in surround sound from a PC.
Pinnacle digital video solutions featuring Dolby Digital 5.1 Creator offer 5.1-channel Dolby Digital encoding for a Hollywood feel in DVD movies. Dolby Digital surround sound is a fitting complement to widescreen video and advanced special effects which can now be created with Pinnacle video editing software.
Dolby Digital 5.1 Creator also optimizes recording space, making it possible to store more high-quality audio content on discs to optimize video compositions. With Dolby Digital 5.1 Creator, a 5.1 audio track can be recorded in a fraction of the space required by stereo PCM. The resulting savings in disc space allow for a higher video bit rate or extended recording time.
"Pinnacle is set on providing our users with the most advanced and complete toolkit for developing and distributing video projects," said Tanguy Leborgne, Director, Product Marketing, Pinnacle Systems. "Dolby Laboratories has been at the forefront of audio encoding, so it made sense for us to turn to Dolby and its 5.1-channel encoding technology to augment the latest versions of our range of powerful desktop editing products."
"Pinnacle is the first company to offer retail software products featuring Dolby Digital 5.1 Creator," said Greg Rodehau, Director, PC Technology Marketing, Dolby Laboratories. "Now video enthusiasts everywhere are able to add dramatic and powerful sound effects and music to their video creations without compromising disc space."
Pinnacle Liquid Edition version 6 offers multiformat real-time editing, compositing and effects, DVD authoring tools, and an intuitive redesigned Microsoft Windows-based interface. Pinnacle Liquid Edition gives users the ability to edit multiple streams of content with real-time effects on a standard PC. Liquid Edition is currently available for a suggested retail price of $499.
Pinnacle Studio Plus is an enhanced version of Pinnacle Studio, including powerful creative tools such as a second video track for true A/B-style editing, picture-in-picture and chroma key effects, superior slide show capabilities, and dual-layer DVD support to create DVDs that store up to two hours of high-quality video. Consumers may purchase Studio Plus as a standalone software product with Dolby Digital Stereo Creator, a two-channel encoder, for a suggested retail price of $99. It is currently available at all major retailers. Studio Plus users may upgrade online to Dolby Digital 5.1 Creator for $9 and also receive the added benefits of MP3 and MPEG-4 encoding directly from within the Studio application.
DVDs created using Pinnacle video editing software products with Dolby Digital 5.1 Creator technology play back in all DVD-Video players(a), and the 5.1-channel audio featured on these discs is fully compatible with approximately 60 million Dolby Digital 5.1 enabled products sold worldwide.
About Dolby Laboratories
Dolby Laboratories develops and delivers products and technologies that make the entertainment experience more realistic and immersive. For nearly four decades, Dolby has been at the forefront of defining high-quality audio and surround sound in cinema, broadcast, home audio systems, cars, DVDs, headphones, games, televisions, and personal computers. Based in San Francisco with European headquarters in England, the privately held company has entertainment industry liaison offices in New York and Los Angeles, and licensing liaison offices in Hong Kong, Shanghai, Beijing, and Tokyo. For more information about Dolby Laboratories or Dolby technologies, please visit www.dolby.com .
About Pinnacle Systems, Inc.
Pinnacle Systems provides broadcasters and consumers with cutting-edge digital media creation, storage, and playback solutions for use at home, at work, and on the air. Pinnacle Systems' award winning digital media solutions are in use around the world for broadcast, video editing, DVD and CDR authoring, and on the Internet. A recognized industry leader, the company has received nine prestigious Emmy Awards for its technical innovations and carries this commitment throughout all of its product lines. Pinnacle Systems may be reached at 650-526-1600 or at www.pinnaclesys.com .